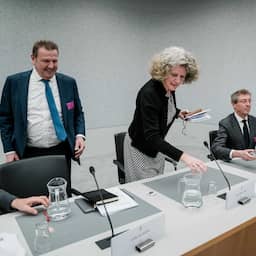 ---
Jan 26, 2023 at 7:17 PMUpdate: 8 minutes ago
Despite explanations from experts and stakeholders, various political parties still have doubts about the new law against money laundering and terrorist financing. This emerged on Thursday during a catch-up session in the House of Representatives. The law should make it possible for banks to jointly monitor transactions of more than 100 euros.
The government believes that more is needed to combat money laundering and terrorist financing. But some parties fear that the bill goes too far. For example, there are concerns about the possibility of completely excluding someone from the financial system, so that they can no longer open a bank account.
"I notice that there are many differences of interpretation about the facts," said VVD member Eelco Heinen on Thursday after the Chamber had listened to experts for hours. "And that makes it very difficult for us to pass judgment on this."
Earlier this week, the Dutch Data Protection Authority (AP) announced its position with regard to the bill. The tightened proposal, which was submitted in the autumn, also affects fundamental rights, according to the regulator.
AP: 'Unlawful interference with fundamental rights'
President Aleid Wolfsen of the AP said in the House of Representatives that the law leads "to an unlawful interference with the fundamental rights of citizens". This is unlawful legislation, "which you cannot actually accept in this form".
There was even disagreement between Wolfsen and Medy van der Laan, chairman of the Dutch Banking Association. According to Van der Laan, there are persistent misunderstandings about the proposal. After all, banks already have to keep an eye on payment traffic in the fight against money laundering.
"You have already opted for all transactions of all people in the Netherlands to be monitored," she told the House. "What's in front of you here makes it more meaningful."
The Public Prosecution Service also wants the law to be passed
The Public Prosecution Service (OM) also says it desperately needs the law. "Ultimately it's just about stopping criminals," says Anita van Dis-Setz of the Public Prosecution Service. "Security is really compromised if we can't share enough information."
The House eagerly awaited what the Council of State (RvS) had to say. He was extremely critical of an earlier version of the bill, but that has since been amended. But the (RvS) cannot simply say whether it is now comfortable with the new system, warned Vice President Thom de Graaf. According to him, the House should first ask for a new advice.
But even then it is "about weighing interests", according to State Councilor Ronald van den Tweel. It is a political consideration whether the proposal violates "fundamental" rights and whether the law justifies it.
Image: ANP
---
Read more about:
PoliticsInland
---
---
---
---