All eyes were on the Razzie Awards this week after Firestarter star Ryan Kiera Armstrong was nominated for worst actress. Today co-founder John Wilson responded to the fuss: he apologized.
Didn't think about it
Wilson co-founded the Razzies, an annual ceremony dedicated to honoring the film industry's underachievement, with Mo Murphy. The angry reactions have not left the film lover in the cold:
Sometimes you do things without thinking about it and then you end up having a hard time. That's exactly why we created the Razzies in the first place. The recent valid criticism we received after Armstrong was nominated has made us realize how insensitive we have been in this case. As a result, we removed Armstrong's name from the ballot. We also feel we owe a public apology to Mrs. Armstrong and we regret that she was hurt by our choices.

John Wilson
A new rule of the game
Wilson says he has learned from the situation and announces that from now on artists and filmmakers under the age of 18 will be excluded from participating in the awards. In addition, he explains that it was never the intention to destroy careers and that is why he came up with the Razzie Redeemer Award, a prize that is awarded to a former Razzie Award nominee or winner who has since grown into a talented filmmaker ".
Since our motto is 'embrace your mistakes', we realize that we now have to live up to this ourselves.

John Wilson
The Razzie winners are up 11 March announced the day before the Oscars.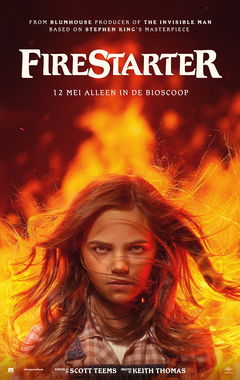 4.6 View on Pathé Thuis • A young girl, who has mysteriously gained the power to set things on fire just by looking at them, is kidnapped by a secret government agency who wants to use her powerful gift as a weapon.
Beeld: Still 'Firestarter' via TMDb
---