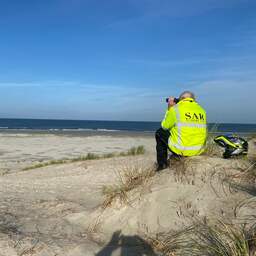 ---
Jan 26, 2023 at 4:31 PMUpdate: 4 minutes ago
Volunteers from the SAR Netherlands search organization are starting a new campaign near the Wadden Islands for the body of twelve-year-old Riemer. He is the last remaining missing after a fatal boating accident near Terschelling in October. With the help of fishermen and beachcombers on Vlieland, Terschelling, Ameland and Schiermonnikoog, they now hope to find a trace of the boy, the organization says to NU.nl.
In addition to Riemer, three others were killed in the accident. One of them was an adult male who was also missing for several weeks, but his body was found on November 6.
"We are now three months further, but we will not stop searching," says Pascal Jonkers, spokesman for search organization SAR Netherlands.
The decision to start a new search followed a Christmas market at Riemer's school. The proceeds from the Christmas market went to various charities, including SAR Nederland. Jonkers: "The rector of that school said that Riemer's bench will always remain empty. We found that so moving that we decided to start a search again."
Search area is expanded
The search area is expanded considerably. Where the volunteers previously searched the waters and beaches of Terschelling, Ameland, Vlieland and Schiermonnikoog are now also part of the search. SAR Nederland has contacted skippers of fishing boats and beachcombers who live on the islands. Land cruisers scour the coastline.
According to Jonkers, the fishing boats adjust their nets as they circumnavigate the islands and beachcombers go out twice a day to search. They take everything that could have a possible connection with the missing boy.
"Finding Riemer's body is at the top of our list. But it would be nice if we could find something that belonged to Riemer, even if it is a shoe or a piece of clothing." This can put the organization on a possible track. SAR Netherlands can then, for example, start searching more intensively around that location.
---
As long as there's a needle in a haystack, we're not going to give up.
Pascal Jonkers, initiator of the search
---
The flood defenses are also monitored. "It may well be that the body was pulled there by the current. We should not rule out that his body could be there," says Jonkers.
Body may have drifted far
Although the search area is now larger, the chance of finding something is very small, Jonkers also knows. "It is possible that the body has drifted to Denmark. It may have entered different currents. But as long as there is a needle in a haystack, we are not going to give up."
The search will take place over the next few days. Depending on the results, SAR Nederland decides whether to use additional resources during the search.
Image: SAR Netherlands
---
Read more about:
SchiermonnikoogVlielandTerschellingAmelandBinnenland
---
---
---
---