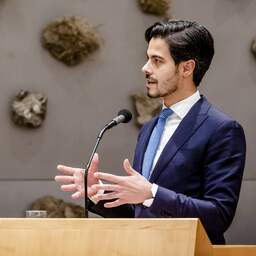 The House of Representatives will continue to debate today about phasing out the net metering scheme for solar panels. The question remains whether the government's proposal can count on sufficient support, because opposition parties have objections to the plan. It is up to Minister Rob Jetten (Climate and Energy) to speak to the critical Chamber.
Owners of solar panels can now offset the excess power that is returned on sunny days against the power that is purchased on grayer days. That is called salting.
The subsidy scheme has been successful in recent years, as a result of which many homeowners now have panels. The cabinet wants to phase out the scheme from 2025 and abolish it completely in 2031, because solar panels have become considerably cheaper.
In addition, the government believes that the scheme is becoming increasingly unfair. After all, all households in the Netherlands now contribute to the high costs that the energy companies have to incur to make the scheme possible. So also the group that does not own solar panels.
The House of Representatives already debated the regulation last week, but due to a lack of time, Minister Jetten's answer was postponed to a later moment. During the debate it became clear that the left-wing opposition parties do not want to simply say goodbye to the scheme. PvdA and GroenLinks are particularly concerned about the rental sector, because relatively few rental homes still have solar panels on their roofs.
The parties fear that it will soon no longer be attractive enough for landlords to invest in solar panels. While for tenants being able to generate their own electricity can help to lower their energy bills. They first want to see a concrete plan on this point from the cabinet.
Jetten will have to do his best today to get the parties on his side, otherwise there is a good chance that the plan will not pass the Senate. The cabinet does not have a majority in the Senate. The coalition parties do support phasing out the net metering scheme, but also have many questions. For example, they want a minimum payment for the electricity that people supply back. The question is how the government intends to regulate this.
---
---