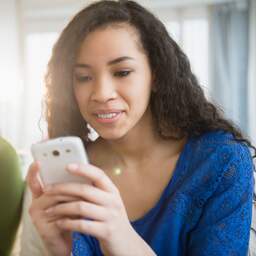 Last week, the lawsuit against 24-year-old Gianni de W., who allegedly had blackmailed more than a hundred girls online since 2014, started. Not only a nightmare for the victim, but also for the parents. How can you arm your children against online bullying and extortion?
It happens more and more often: someone has obtained nude photos and then uses them to blackmail the victim. Ban your child from taking nude photos? That is not a solution, says family therapist Melle Jansen of Praktijk Heerewaarden. "We have known for generations: if you say that your child is not allowed to do something, then he will do it." That's why it's important to start a conversation with your child about what he's doing online.
"This actually starts in primary school, even if it is not sexually tinted. For example, it can happen that a boy or girl shares a photo of a classmate in a group app without being asked. A child can be more affected by this than you think. Children should actually learn that sharing other people's photos has consequences."
According to Jansen, it is especially important that you show involvement, even when nothing is going on. "Say, for example, that you want to look into their phone together, so that you gain more insight into that." If it is perfectly normal in your family to talk about what happens online every day, then it is also more accessible to talk about it later, at a time when something is going on."
Be careful with backups
But what if a hacker is after nude images of your child? Then good security is important, advises security expert Tijs Hofmans at tech site Tweakers.
"Be aware that photos don't just automatically get backed up to Google Photos or iCloud. If they do, make sure you have standard security measures in place: get a strong, unique password and set up two-step verification." That prevents a hacker from ever stealing those backups and extracting photos from them.
A good password manager can help your child to properly secure his account, Hofmans thinks. "You can theoretically monitor your child online with software in your network. But you have to ask yourself whether that end justifies the means, because that is a pretty big invasion of your child's privacy."
Take good care of your child
If your child does become a victim of online extortion, it is especially important, according to Jansen, to take care of him. "Do not try to say: you should not have done that. Show understanding. The damage has already been done, there is very little you can do about it."
"You do have a responsibility as a parent, but at the same time you have to deal with the shame of your child, who may not want you to discuss it with the teacher or teacher. You always have to try to coordinate that."
Unfortunately, this content cannot be displayed. We do not have permission for the necessary cookies. Accept the cookies to view this content.
Change cookie settings
---
---