---
Jan 26, 2023 at 9:54 PMUpdate: 8 minutes ago
FC Groningen coach Dennis van der Ree can understand the anger of the supporters. His team's game against SC Cambuur (0-1 loss) was halted for fifteen minutes on Thursday evening because angry supporters stormed the field.
"It is not allowed that they walk onto the field," Van der Ree told ESPN . "But I understand the disappointment and their thoughts. At a club like this you don't expect to be in last place."
A group of about fifteen supporters entered the field five minutes before the end. One spectator waved the corner flag around. The group tried to reach the catacombs of the Euroborg, but were stopped there. It is unclear if any arrests have been made. The match was halted for about fifteen minutes.
When the game was stopped, the 0-1 final score was already on the scoreboard. In the final phase, Daniel van Kaam spectacularly ensured that Sjors Ultee's team won. The midfielder took a high ball on his shoe in one go and shot the winning goal against the ropes.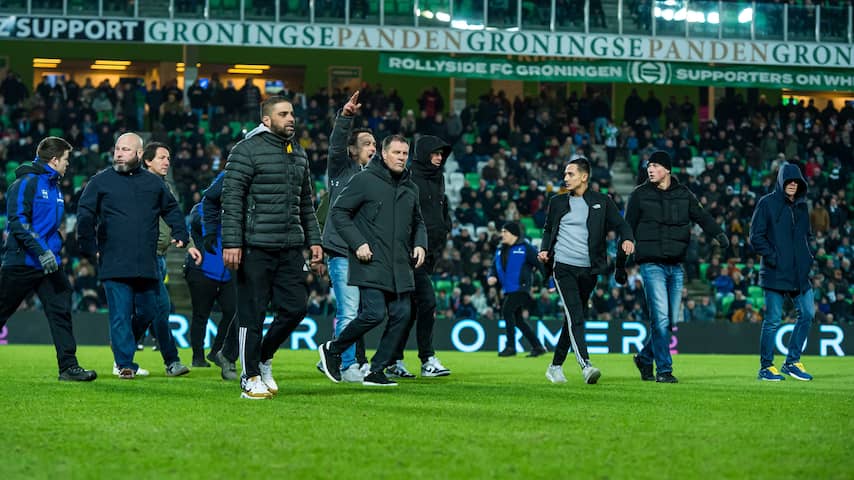 FC Groningen fans storm the field during the home game against SC Cambuur. Photo: ANP
"We also did good things today"
Due to the defeat, Groningen dropped to last place in the Eredivisie. That was also because FC Volendam drew against Ajax (1-1) in the Johan Cruijff ArenA. The Volendam team now has one point more than Groningen.
FC Groningen will compete against direct competitor FC Volendam on Sunday. "We should not sit in disappointment now, but rather straighten our backs," said Van der Ree.
"We have to cry now and come back to the club sharply tomorrow. We also did good things today. There are still many games to play. Sunday is immediately a very important one."
Technical director Mark-Jan Fledderus has been dealing with considerable criticism for some time due to the lack of performance. FC Groningen, which fired trainer Frank Wormuth in November, is having its worst season since it was promoted to the Eredivisie in the summer of 2000.
View the program, the position and the results in the Eredivisie
Jan 26, 2023 at 8:54 pm
Cambuur increases Groningen's concerns in a relegation duel interrupted by fans
Image: Pro Shots
---
Read more about:
FC GroningenFootball
---
---
---
---