A series about her crimes created by Shonda Rhimes, Inventing Anna (2022) was just the beginning of a place in the spotlight for Anna Sorokin, otherwise known as Anna Delvey. Now Sorokin will star in her new reality series Delvey's Dinner Club, which will be filmed in her East Village apartment where she is under house arrest.
Sorokin imagoherstel
Sorokin will host fancy dinners to which a number of prestigious guests have been invited. It involves actors, musicians, socialists, journalists and other esteemed guests who join her each week for a chef-prepared table full of candid conversations that, of course, also involve Sorokin herself. She will discuss her experiences within the criminal justice system and her strategy to rebuild her image.
Who dares?
It is not yet known who the celebrities will be joining. The Netflix series has already been discredited for 'celebrating a criminal', so it will be interesting to see which stars dare to have a conversation with this con artist. For example, will Julia Garner be one of the guests? She is the actress who took on Sorokin's skin for the Netflix series. Sorokin himself lacks any doubt about the guests. In a statement, she said she is embarking on the series with the goal of "revealing to the public a glimpse of the real Anna".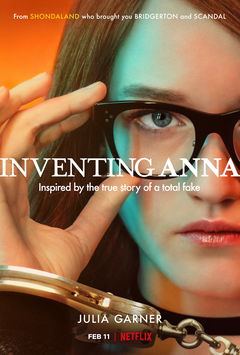 6.8 Watch on Netflix • A journalist investigates the case of Anna Delvey, the Instagram queen, who stole the hearts and money of New York's elite.
Image: Still 'Inventing Anna' via David Giesbrecht/Netflix © 2021
---