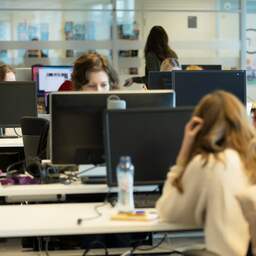 ---
Jan 25, 2023 at 3:47 PMUpdate: 2 minutes ago
If you have an affinity with journalism, digital strategy and you prefer to work with data all day long, then we are looking for you! At NU.nl we are looking for a news analyst. You will have the opportunity to contribute to the growth of the NU.nl site and app.
If News Analyst you work in the editorial office of NU.nl and translate your data into advice for the editors of the largest digital news brand in the Netherlands. You analyze, report, give advice on how and when productions should be published and act as a coach on the editorial floor. You work within the Content Performance Team of DPG Media, so you have enough sparring partners around you within the rest of the organization.
Your function
If News Analyst you advise and support the various editors of NU.nl (such as interior, sports, economy and backbiting) with data insights. On a daily basis you divide your time between analysing, advising and reporting data for the various editors and on the other hand you help to make decisions about how productions should be distributed on NU.nl.
You advise and support the editors based on the performance of articles.
You think about how we can use data better and make it more transparent, and you create support within the department.
You work closely with the editorial staff and business stakeholders and are the point of contact for their data-related questions.
You are responsible for optimizing editorial reports and improving data processing.
You take this with you
You have a love for digital journalism and numbers and a nose for social media and online news and you have an affinity with journalism. You are substantively strong in that area and you are a sparring partner for all editors and in particular the chiefs and editor-in-chief.
You have at least three years of relevant experience.
You have completed a HBO/WO Bachelor (or similar course), preferably in journalism or communication.
You have a passion for data and strong analytical skills.
You have good communication skills, communicate easily and have sufficient persuasiveness to make your own ideas land.
You have the ability to (learn to) work with technical and analytical programs, such as SQL, Google Analytics or Looker.
NU.nl is the largest digital news brand in the Netherlands and reaches millions of people every day. We are part of the largest media company. At DPG Media we work for more than 90 strong news brands, magazines, television programs, radio stations and online services such as Qmusic, AD.nl, Tweakers, Libelle, VTM and more. We reach more than 90% of the Dutch and 8 out of 10 Flemish people every month.
We offer you a professional working environment in which freedom is extremely important to us. We give you all the space you need to work on your future by offering workshops and training courses. Feel free to be an entrepreneur, learner and team player with us, and above all to be yourself. Everyone is welcome at DPG Media.
Interested? Then apply immediately!
Will you be our new news analyst? Then respond quickly and, in addition to your resume, send us a good motivation that shows that we need to speak to you.
Do you have any questions? I would be happy to answer this via [email protected]
Image: NU.nl
---
---
---