---
Jan 25, 2023 at 6:02 PMUpdate: 3 minutes ago
The United States will still supply M1 Abrams tanks to Ukraine. This was announced by US President Joe Biden at a press conference on Wednesday. Germany previously gave permission to supply Leopard 2 tanks to Ukraine.
The US is supplying 31 Abrams tanks to Ukraine. According to official figures, the country owns a total of about six thousand. A government official says delivery of the tanks could take months.
The delivery of tanks does not cause an escalation, according to Biden. The tanks would not be an "offensive threat" to Russia, as they are intended to defend Ukraine's territory.
Ukrainian President Volodymyr Zelensky is very happy with the announcement, he writes in a tweet. He calls the delivery of the Abrams tanks an "important step on the path to victory."
Unfortunately, this content cannot be displayed. We do not have permission for the necessary cookies. Accept the cookies to view this content.
Change cookie settings
Maintenance of tanks 'difficult and expensive'
US government officials have insisted for months that supplying Abrams tanks is unrealistic. They especially pointed out that the maintenance of the tanks is "extremely difficult and expensive". For example, they run on kerosene instead of diesel. Ukrainian soldiers also have to undergo long training before they can use the vehicles.
But the Pentagon is now tacking. The Arab branch of Sky News was the first to report on the delivery plans before the official announcement. According to the news channel, the Pentagon is now convinced that Kyiv needs about 500 tanks to withstand the next Russian offensive.
Germany gave the green light for European tank deliveries a day earlier. On Wednesday it became clear that Germany and European allies will donate almost ninety modern Leopard 2 tanks to Ukraine. Those tanks are seen as the best, heaviest and deadliest tanks made in Europe.
Many European countries have now announced tank deliveries. Other countries have indicated that they are open to supplying tanks.
Ukrainian President Volodymyr Zelensky welcomes the news. "We are sincerely grateful to Germany and all our other friends." Ukrainian foreign minister Dmytro Kuleba is asking countries to supply Kyiv with "as many" tanks as possible.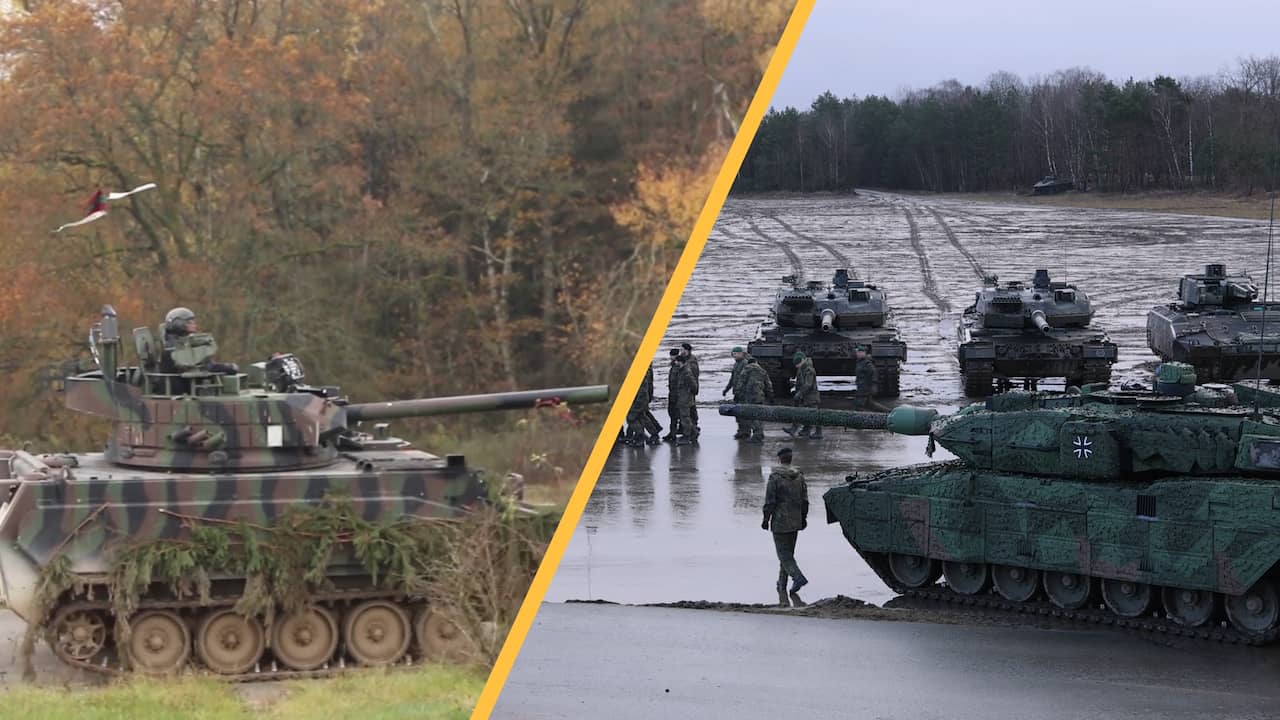 2:05 Play button
Beeld: Getty Images
---
Read more about:
UkraineRussiaGermanyUnited StatesAbroadWar in Ukraine
---
---
---
---