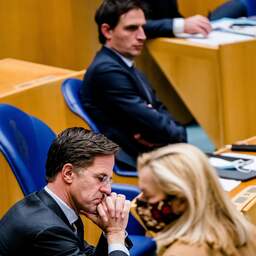 Every day at lunchtime you can read what people have to say about the big news of the morning. Today: this is what you say on our response platform NUjij about the mess the cabinet has made of climate spending. The costs of this are between 4 and 6.9 billion euros annually, but the ministries involved do not provide a clear overview of where the money comes from and where it goes.
"The House of Representatives has no idea about climate spending. I wonder if they even have a picture at all. I think they have thrown so much noise on the line that everything is clouded and that error after error is the result. They have no view of their expenditure. And therefore also the necessary crises. Perhaps it would be useful to tackle things one by one and solve them before another balloon is released. Every minister has his own thing and wants to make his point "I would say join forces and solve it together without working against each other. Would be good for the country's interest and confidence. Because the latter is very far away."
"We have now seen three incidents in a few days of a level where the responsible minister would have been sent away 20 years ago:
1. The investigation showing that the Ministry of I&W has been lying for years about international treaties that would make a national ban on degassing while sailing impossible.
2. Minister Adema who, against his better judgement, created false hope by proposing a transitional period that he knew did not comply with the rules set by the EU.
3. The incident from this article.
How does the government itself feel about this 'new administrative culture'? The trend that administrators take less and less responsibility, the chamber is deliberately misinformed and accountability for the policy pursued is seen only as a disruption continues, and apparently everyone thinks that's fine too."
"I am amazed at all the negative reactions. All these people seem to forget that it is the task of the Court of Audit to monitor the income and expenditure of the government and the various ministries in particular. they have performed this task well in this research report, enabling the ministries to implement improvements and the House of Representatives to carry out its monitoring task by holding the government to account.
My position is that there is basically nothing wrong. The procedure works. Exactly the same thing happens in the business world and it is accountancy firms that have this task. They also find irregularities, but they rarely or never come out."
"It is also dangerous to impose on ministries what falls under climate spending. This means that a central body must have a full understanding of all the details within a ministry.
I understand that there is a risk of fraud, but the imposed bureaucracy, overhead and lack of insight can cause many good initiatives to fail and, on balance, have a negative effect on the total investment.
Decentralization is good. Standardization too. And for the exceptions, I think it helps to check afterwards instead of forcing everyone to account for everything upfront on a per cent basis. The situation is far too complex for that."
Would you also like to shine your light on this subject? Then click here. The comments above are displayed as posted by users. The editors of NU.nl are not responsible for any language errors.
Did you find this article via Net In? You can find similar documents every day via the NUjij button at the bottom of your app.
---
---