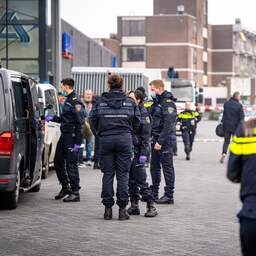 The third getaway car of the 49-year-old fugitive from the shooting in Zwijndrecht was found in Hoek van Holland on Tuesday evening. The black Seat Ibiza of Minh Nghia Vuong was parked on Dolphijnstraat. An arrest team searched a house in the area, but did not find Vuong. The search continues and help from the public remains welcome, the police emphasized.
Vuong is suspected of shooting a 66-year-old woman and wounding her 38-year-old daughter. The daughter is still in the hospital. The shooting took place on Saturday, January 21 at the Walburg shopping center at the Hof van Holland in Zwijndrecht. Vuong is suspected of murder and attempted murder.
The police report that the black Seat Ibiza soon came into view after the second getaway car was found on Tuesday. The house on Dolphijnstraat, where the third getaway car was found, was raided and searched by the police.
The suspect has not yet been arrested. On Tuesday, the police announced that the tip leading to Vuong will be rewarded with 30,000 euros. The suspect is also under international surveillance.
According to a police spokesman, Vuong cannot leave the country by boat in Hoek van Holland. "Wherever there's border control, he can't get through."
The suspect fled immediately after the shooting. He has since disappeared without a trace and has already used three getaway cars. The police describe him as 'dangerous from flight and firearms'.
---
---