---
Jan 25, 2023 at 06:49 Update: 3 minutes ago
Bats are legally protected, but they lose their habitats en masse and are sometimes even killed if we insulate our homes. The Council of State must determine the future of the bats and sustainability. "The insulation industry has been able to run like cowboys for ten, fifteen years."
Conservationists see the photos more and more often: dead bats, their fur covered with polyurethane foam, glue or insulation granules. Homeowners who have their cavity wall insulated encounter the critters afterwards, unintended victims of sustainability.
"And that's just the tip of the iceberg," says ecologist René Janssen of the Foundation for Ecological Bat Research in the Netherlands (SEVON). "A lot of critters just really can't escape." They remain behind in the cavity wall, buried alive under the insulation material.
Because all bats are protected by law, it is not allowed to kill them or to encroach on their habitats. Nevertheless, we do this en masse with the post-insulation of buildings, say ecologists. While we continue to make our buildings more sustainable, the habitat of species such as the lake bat, common pipistrelle and serotine bat continues to shrink.
Receive a notification of new articlesStay informed with notifications
Camera in the cavity is insufficient
Before a cavity wall is insulated, insulation companies usually only look into the cavity with a small camera to see what is there: pipes or debris, but also animals. But that camera does not see everything and, moreover, bats are in different places in different seasons. If you don't find any animals, your house can still be a bat enclosure at another time.
That is why, according to experts, an ecologist should come by to see if bats may be present. If so, a more extensive ecological study should follow.
Then bat activity is monitored in different seasons to see whether your home is popular as a mating residence, summer residence or maternity residence for a certain species. Do bats like to sit in your cavity wall if the spring sun has shone on it in the morning, or if your heating keeps it warm in the winter? Such an extensive investigation costs a lot of time and thousands of euros.
"You run into an impossibility there," says researcher Herman Limpens of the Mammal Association. "How can a private individual have all those things examined? That is ten times more expensive than your entire post-isolation."
Bat case in court
Yet it is what the Nature Protection Act prescribes, agrees the Utrecht Regional Implementation Service. The environmental watchdog imposed a penalty on the insulation company Isosun because it did not conduct sufficient research into the presence of bats. The insulation company appealed, but was unsuccessful in court. He concluded that more extensive bat research is indeed needed before isolation is allowed.
The Council of State is now considering the matter. The highest administrative court is faced with a difficult dilemma: confirm that strict ecological research is mandatory – which would slow down the sustainability of buildings – or look for another solution that also works out well for protected animal species.
The Council took a remarkable step in the matter: everyone was given the opportunity this month to "think along" about this problem. The judge wanted to gather more information about the effectiveness of different research methods and the associated costs. Since 2021 it is legally possible to request input in this way. That option has now been used for the first time, says a spokesman.
Janssen of SEVON is pleased that the bat issue has ended up in court. Until now, insulation companies have done far too little to ensure that bats are protected, he says. "The insulation industry has been able to rage like cowboys for ten, fifteen years and has never been caught for it. In fact, all implementation services should sue one insulation company after another."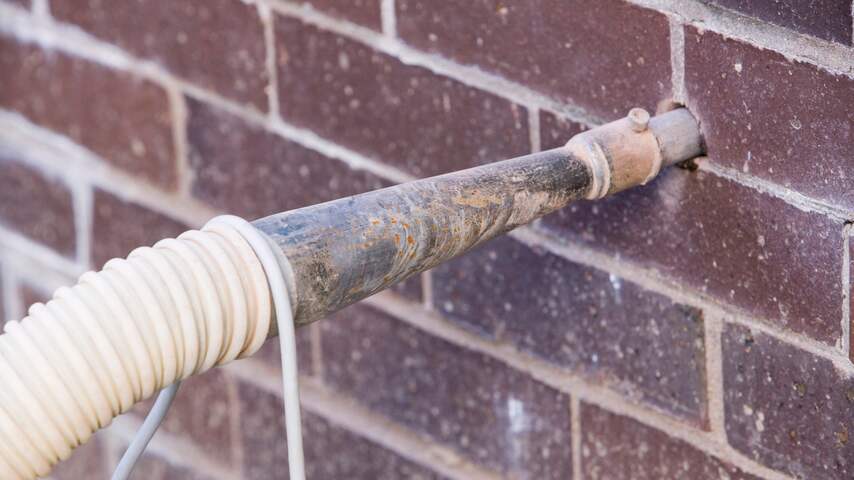 Insulation material is sprayed into a cavity wall. Photo: Getty Images
Nature-inclusive insulation
The insulation sector hopes to prevent work from coming to a standstill by focusing on 'nature-inclusive' insulation. "Everyone knows that we have to become more sustainable and that we have to protect flora and fauna," says Arthur Rouwenhorst, board member of the insulation sector association VENIN.
The province of Utrecht is experimenting with making homes that are insulated 'nature-free'. In that case, flaps are placed in the wall where bats can fly out, but cannot go back in. After some time, the bats should have fledged and the insulation work can begin.
As compensation, bat boxes are hung so that the animals have a new home. Rouwenhorst hopes that the method can also be introduced in the rest of the country.
'Bleeding cloth'
Nevertheless, the ecologists NU.nl spoke to are critical. "Will that cabinet be sufficiently stable and provide sufficient heat to function as a maternity home, for example?" Limpens wonders. "We don't know enough about that." Janssen calls the bat boxes "a cloth for bleeding". According to him, the flaps do not guarantee that a cavity wall is really bat-free.
For the Ministry of Agriculture, Nature and Food Quality, the Mammal Association mapped out what is scientifically known about replacing different types of bat enclosures. "That is shockingly disappointing," says Limpens. Much more research is needed into existing bat houses, he says. With this knowledge, we can better imitate the enclosures in the future if we make our buildings more sustainable and want to offer the bats an alternative.
"In fact, we are now in a very risky situation. Just like with nitrogen, people could smartly take this to the Council of State and shut down the whole thing," says Limpens. "I don't think that's the right way." But the ecologist does want bats to be taken much more into account when buildings are insulated.
Municipality must map out residences
The experts believe that municipalities have a major role to play in this. They should map out where the important habitats of different bat species are, and which dwellings may be used by the animals. This also makes it clear in which neighborhoods you can insulate without bats getting in the way. "Some people say that nothing can be done anymore, but that is not true," says Janssen.
A number of municipalities are taking the lead. Residents of Amersfoort, for example, can see on a digital map where bats are present, and whether their home is a popular place to stay. Depending on the result, it is determined how an insulation company works.
"We are all 100 percent for the energy transition," says Limpens. "But it's about the way. We have to push back, not to stop the transition, but to steer it well."
Beeld: Getty Images
---
Read more about:
ClimateNatureSustainabilitybats
---
---
---
---