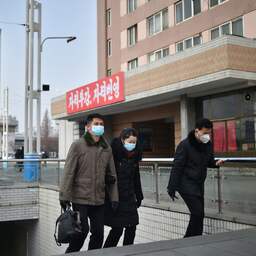 Pyongyang, the capital of North Korea, will go into lockdown for five days on Wednesday. According to the authorities, this was announced because of an increasing number of cases of an unspecified respiratory disease.
The government statement does not mention COVID-19, reports NK News, which is based in South Korea. Residents of the city must stay at home until the end of Sunday and check their temperature several times a day.
A day earlier it became clear that the residents of the city seemed to be stocking up on goods because they expected stricter measures. It is not known whether other parts of North Korea will also have to go into lockdown.
North Korea acknowledged the corona outbreak last year. In August, the country would have overcome these. The country has never disclosed how many people contracted the virus.
According to observers, North Korea does not have the resources to carry out tests all over the country. Instead, it reported daily numbers of patients with fever. That number rose to about 4.8 million. About 25 million people live in the country.
---
---