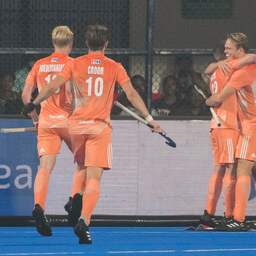 The Dutch hockey players reached the semi-finals of the World Cup hockey without any problems on Wednesday. The team of national coach Jeroen Delmee won 5-1 against South Korea.
In the semi-finals, Belgium is the opponent of the Orange in Bhubaneswar. Five years ago, the final was still between the neighboring countries. Then Belgium conquered the world title at the expense of the Netherlands after a spectacular shoot-out series.
The Netherlands hardly got into trouble against South Korea. The reigning European champion took a 1-0 lead halfway through and ran to 5-1 in the second part of the game. The Dutch goals came in the name of Koen Bijen (two), Justen Blok, Steijn van Heijningen and Teun Beins.
The other semi-final is between Germany and Australia. Australia settled in the quarterfinals with the Spain of former Orange national coach Max Caldas. Germany won after a nice comeback via shoot-outs against England. The two semi-finals will be played on Friday.
It is the fourth time in a row that the Netherlands has reached the semi-finals of the World Cup. In 2010, the Dutch took bronze and the Netherlands finished with silver in the last two editions. In 1998 the Dutch men became world champions for the last time.
---
---