---
Jan 25, 2023 at 11:58 Update: 4 minutes ago
Thanks to her historic Olympic participation in Beijing, Lindsay van Zundert instantly became the face of Dutch figure skating. Yet the seventeen-year-old from Brabant still has concerns about money. On Thursday she will start her first major tournament of the season at the European Championships in Espoo, Finland.
After her training sessions at the Breda ice rink, Van Zundert has been increasingly asked for a year if she wants to stop for a photo. The requests come from young figure skaters, but also from recreational skaters who skate laps on the 400 meter track.
"That is the effect of the Games. It almost never happened in the past," says Van Zundert in conversation with NU.nl. "I especially think it's very sweet of those people. Just like I think it's special every time I get messages from girls who say I'm their idol."
Figure skating is the world's largest ice sport, but in the Netherlands the sport was an almost forgotten discipline for half a century. Until Van Zundert became the first Dutchman in 46 years to qualify for the Olympic Games. The young Etten-Leurse finished eighteenth in Beijing last February.
In China, Van Zundert already noticed what her participation in the Netherlands unleashed, especially because of the hundreds of follow requests on social media. In recent months, she has also received more and more messages from girls who have started figure skating because of her.
"And I understand that the ice rinks in the Netherlands are also seeing that the sport is becoming more popular," she says. "I would find it very special if I meant something for figure skating in the Netherlands. I actually only notice positive effects of the Games."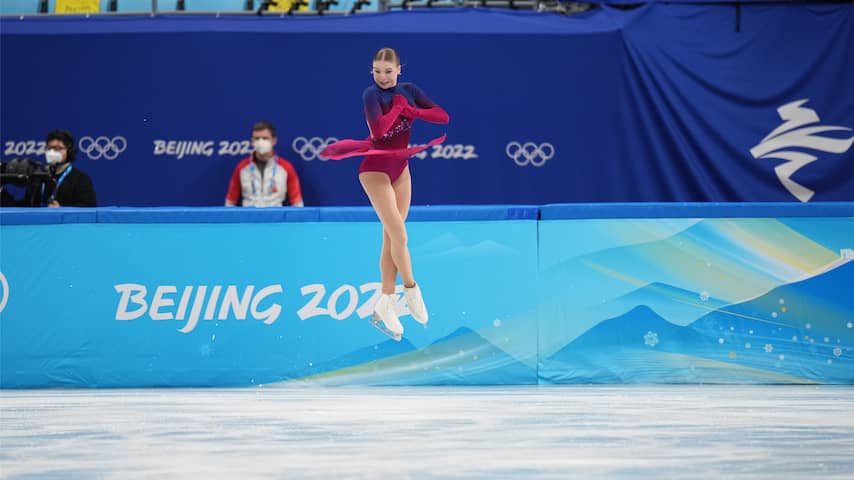 Lindsay van Zundert finished eighteenth at the Beijing Games. Photo: Getty Images
Van Zundert is looking for money for the Milan Games
Still, her dream weeks in China failed to solve one major problem. Van Zundert still does not have a sponsor who guarantees her a fixed income. It resulted in an emergency call three months ago. "Financially it is almost impossible to afford," she told NOS. "I'm actually in a money crisis. We're really close to the edge."
Van Zundert hoped that her Olympic performance would earn her an A status, but she did not get it. For the fixed allowance, sports umbrella organization NOC*NSF adhered to the requirement that an athlete must finish in the top twelve at a World Cup or Olympic Games, and the figure skater has not yet succeeded.
That doesn't make it any easier to continue to cover the hefty costs – such as ice rental and paying her personal coaches Carine Herrygers and Thomas Kennes. "Figure skating is a very expensive sport," says Van Zundert. "Everything is arranged for this season. But not yet for the next three years towards the Olympic Games in Milan."
In November, Van Zundert started the crowdfunding campaign Help my skating career, which has now raised almost 9,000 euros. In addition, she has been supported for years by the Artistic Riding Foundation Netherlands (SKN) of icon Joan Haanappel, but that is also not a sustainable solution towards Milan 2026.
"SKN has done a lot for me and still does a lot for me, but that pot is also empty once," says Van Zundert. "Moreover, the foundation is mainly intended to help talented young skaters. I don't want all the money to go to me alone, there are also other girls who deserve support."
Dutch participants in the European Figure Skating Championships
Lindsay van Zundert (women) Nika Osipova and Dmitry Epstein (pair riding) Hanna Jakucs and Alessio Galli (ice dancing)
Van Zundert skates new freestyles at European Championships
SKN and Van Zundert's mother Chantal Vervuren try to keep the money worries away from the Dutch champion as much as possible, so that she can fully focus on her performance on the ice. "I'm constantly trying to improve myself, that's the only thing I can really do," says Van Zundert.
The Brabant woman can present herself to the general public for the first time this winter at the European Championships in Espoo this week. In the Metro Areena just outside the Finnish capital Helsinki, she will show her new short and free freestyle, which her French choreographer Benoît Richaud made for her after the Games.
"New freestyles are always exciting, because you don't know if they will go over well with the jury," says Van Zundert. "My choreographer has really made something different from what I did last season, but that's also fun. And so far it seems to be going well."
Van Zundert drove five races in the pre-season, in which an upward trend could be discovered. At her last performance – at the beginning of December at the Golden Spin in Zagreb – she achieved a total score of 174.81 points. She was only 1 point below her personal best of the Beijing Games.
Her main goal at the European Championships is to get to the freestyle. To do this, she has to finish in the top 24 of the short freestyle in a field of 30 skaters. "I would like to show again where I stand at this level," says Van Zundert. "And if my results are good, hopefully it will also become more attractive for companies to invest."
Program European Figure Skating Championships (women)

Thursday, January 26, from 12:35 p.m: corte cure
Saturday, January 28, from 12 noon: Free freestyle
Beeld: Getty Images
---
Read more about:
Figure skatingLindsay van Zundert
---
---
---
---