---
25 Jan 2023 at 09:17
There will be a statue for the dog Bläsz. During the flood disaster in 1953, the four-legged friend saved dozens of cows and calves by biting their legs while swimming and driving them up a dike. The statue will be unveiled on February 3 in Scharendijke on the Zeeland island of Schouwen-Duiveland.
Bläsz has already received a high international award for brave animals. He was also allowed to give the then Queen Juliana a paw when she came to see the consequences of the disaster.
In the flood disaster in 1953, 1,836 people died when poorly maintained sea dikes broke. This happened due to a combination of spring tide and severe storm. Large parts of the southwest of the Netherlands were flooded.
After the disaster, the Netherlands decided to take an organized approach to building sea walls and dikes. The Delta Plan was devised for this purpose.
The archives of the Delta Plan and the accompanying Delta Act are now included on UNESCO's national heritage list. According to that organization, they document well how the Netherlands picked up the fight against the water after the disaster.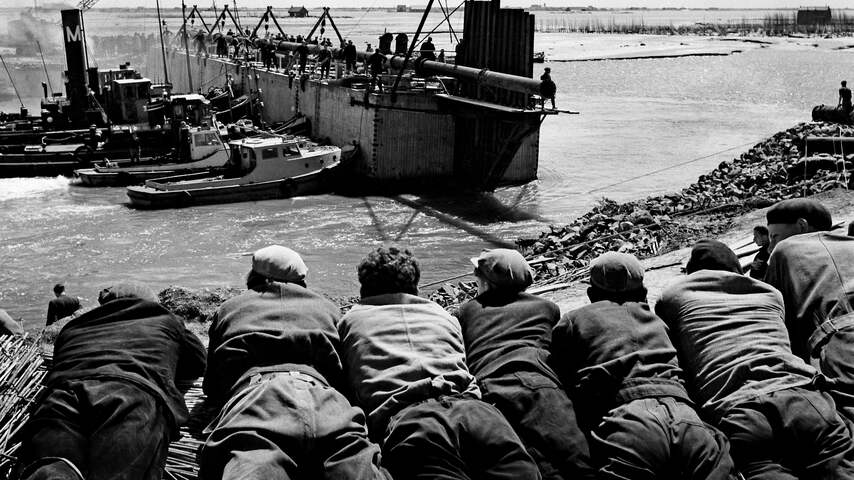 The Delta Plan has been included on the Unesco national heritage list. Photo: ANP
Flood disaster this year seventy years ago
The unveiling of Bläsz's statue is one of the many activities surrounding the seventieth anniversary of the flood disaster. In almost all villages and municipalities in Zeeland, South Holland and North Brabant that had to deal with the water at the time, there are commemorations, silent marches and wreath laying on February 1.
Princess Beatrix will go to Oude-Tonge on the South Holland island of Goeree-Overflakkee that day. The princess also attended the fiftieth commemoration in this village, which, with 305 deaths, had the most victims of the flood disaster.
Minister Mark Harbers (Infrastructure and Water Management) speaks at the commemoration in Ouwerkerk on Schouwen-Duiveland. In November 1953, Rijkswaterstaat closed the last hole in the dikes here.
Image: ANP
---
Read more about:
Inland ZeelandFlood disaster
---
---
---
---