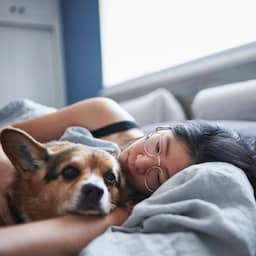 There has been an official flu epidemic in the Netherlands since the end of last year. On our response platform NUjij you asked many questions about this flu wave. This question came up often: what have the lockdowns done to our immune system? Are we getting sick more often now?
It is not surprising that viruses circulate during the winter season. Are the viruses now circulating more and are they hitting harder because we had to deal with corona measures during the previous winters?
RIVM, among others, is investigating how our immunity behaves after corona. Whether people will get sicker this year is still difficult to say, because the research is still ongoing.
"In international research, we do see that immunity to a number of viruses was declining somewhat during the COVID-19 pandemic," says RIVM virologist Adam Meijer. "That is easy to imagine. Because if you don't get infected, you don't make new antibodies. But in addition to antibodies, we also have defenses by cells that attack infected cells, and they seem to have been maintained reasonably well."
"We can reason it out, but it is not the case that there are already good figures," says Leon van den Toorn, pulmonologist at Erasmus MC. "Experiencing an infection in itself is an attack on the immune system. And there are undoubtedly patients who have fallen behind in their condition during corona time by exercising less, eating more and smoking more. This in turn leads to a lower resistance. You can imagine that being indoors has not exactly improved the resistance to infections."
Health scientist Maaike de Vries also emphasizes the mental effects of the lockdown. "We know that unhealthy eating and sitting a lot are unfavorable for the immune system. But also important are the stress and loneliness that people have experienced due to the measures. For example, think of someone who is single, could not go to work and could see friends less, or lonely elderly."
Did you find this article via Net In? You can find similar pieces every day via the NUjij button at the bottom of your app!
---
---