The energy crisis is leaving big holes in households' portfolios. For example, one in three Flemings has difficulty paying an unexpected expense of 1,000 euros. This is the signal for the Gezinsbond to advocate full indexation of the Growth Package. "The child benefit is not an extra for families, but a necessary support to keep their heads above water," says general manager Jeroen Sleurs.
The price for natural gas, electricity and yes, even a liter of whole milk. We all feel the war in Ukraine and the energy crisis in our portfolios. A survey by the Gezinsbond, carried out by Bpact and Indiville, now shows how badly we have been affected. The survey was conducted in November last year among a representative sample of Flemings, not just among families.
First observation: in six months' time, 55 percent of the Flemish people saw their financial situation deteriorate. The result is that one in three Flemings fears that they will not be able to last much longer with the money they have. Just as many people find it difficult to afford an unexpected expense of 1,000 euros.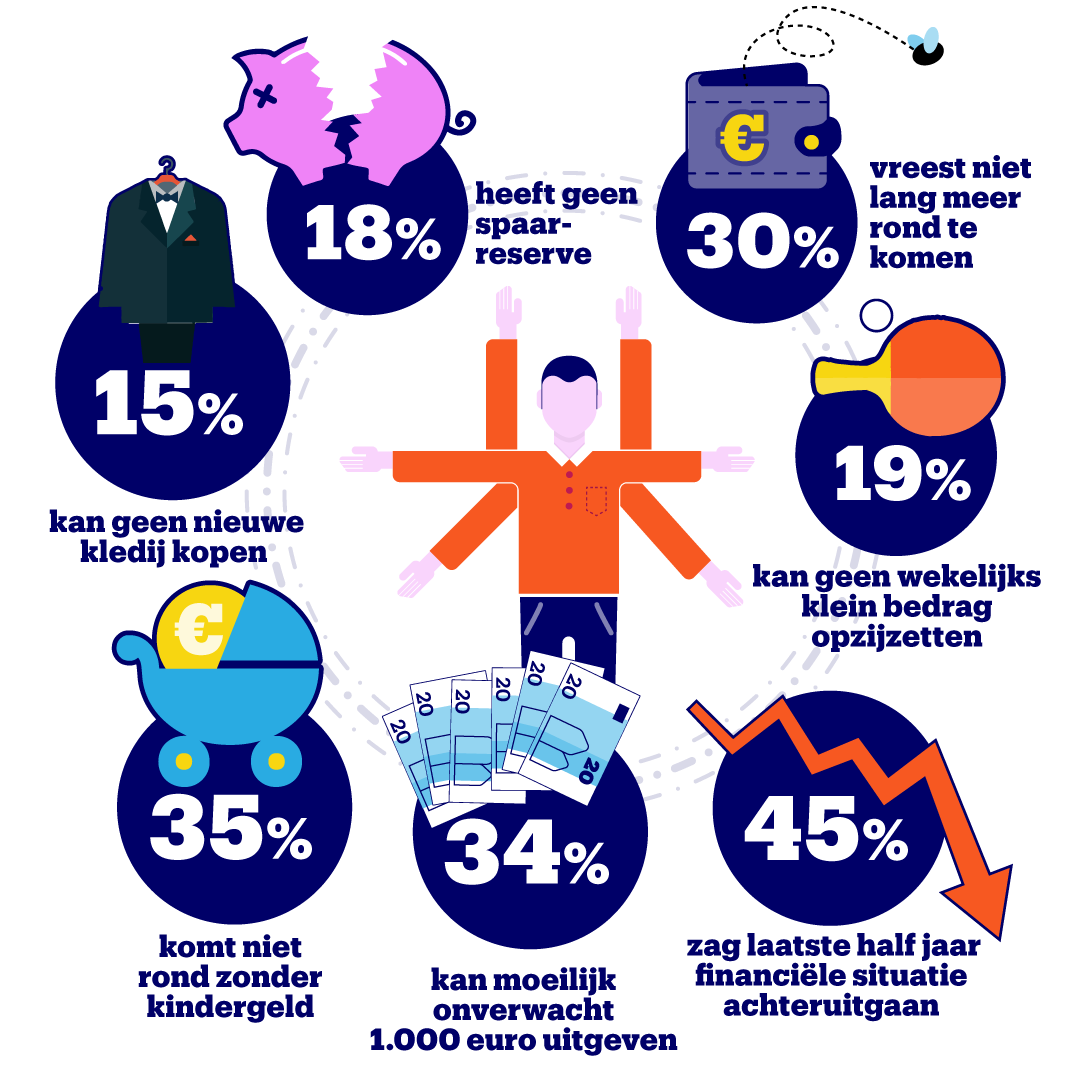 READ ALSO. What will happen to the price of energy, food and goods? These are the expectations for 2023
"If the washing machine or dryer breaks down, that is already a big problem for those people," says Jeroen Sleurs, general manager of the Gezinsbond. "That is worrying, because it means that those people are constantly worried. Apart from the fact that they can't afford some things, that causes stress. This weighs on families and is a problem, especially in the long term. We already see so many people drop out due to burnouts and other mental problems. Those financial worries really don't help that."
Need child support
The fact that the wages of approximately 1 million employees will now be indexed in January already makes a difference, but according to the Gezinsbond this is insufficient. After all, the survey shows that one in three families needs the Growth Package – the former child benefit – to make ends meet at the end of the month. Before the crisis, that was one in five. "This means that families have become de facto poorer," says Sleurs.
The Growth Package will be indexed at 2 percent this year, while average inflation was almost 10 percent last year. "80 percent of people use that money to pay for the general costs of the family," says Sleurs. "Contrary to what some may think, that is really not a perk that families can set aside. Logical, if you know that it costs almost 5,000 euros annually to raise a child between 0 and 5 years old, without taking childcare, school and medical costs into account."
READ ALSO. Less child benefit for parents who make insufficient efforts to teach children Dutch? Why Ben Weyts is coming up with a controversial proposal just now
Fortunately, with the indexation of wages and falling energy prices, there is already some light at the end of the tunnel. "But to really stop the impoverishment of families, a full indexation of the Growth Package is needed," says Sleurs. "I do not understand that some in the discussions about child allowance say that it is a choice of parents to have children and that they should pay for the education themselves. We are experiencing a massive aging population. It is today's children who will take care of our pensions in the future. Don't we also pay for our children's education? Well, before they start that training, they must also have received a good education."
---
---