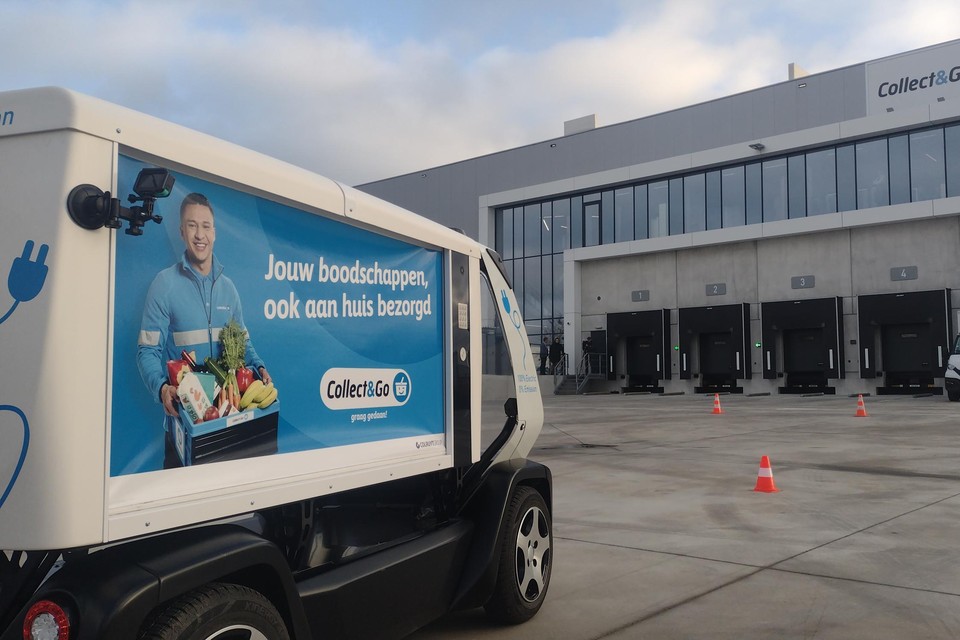 The self-driving car of Colruyt Group, which has been driving on public roads in Londerzeel since the end of November, delivered groceries to homes for the first time on Tuesday. The customer, who ordered the groceries via Collect&Go, could easily pick up her delivery from the unmanned cart, after which it continued on its route. In total, the trolley delivers groceries to three customers on Tuesday.
jvhBron: BELGA
Today at 11:37
The unmanned vehicle, which is called CLEVON 1, has been driving a fixed route on public roads since November. From the Colruyt distribution center it goes to the Collect&Go collection point in the center of Londerzeel, a route of four kilometers. The addresses of about thirty Collect&Go customers were identified along the route. They were written to last week asking if they would like to have their Collec&Go groceries delivered by the unmanned vehicle.
One of those thirty customers was 26-year-old Ellen Cools. Her house is right on the route that CLEVON 1 travels. "I was immediately interested in participating," says Ellen. "I liked the idea of ​​knowing that a self-driving vehicle would deliver my groceries. It is also great that you are involved in something innovative."
Yesterday/Monday, Ellen placed her order on Collect&Go, and she was personally called by the team behind the trolley. She received a code from them that allowed her to open the trolley and unload her groceries. "Everything went very smoothly. I would like to do it again."
On Tuesday, a total of three deliveries will be made on the fixed route of CLEVON 1. Two of the three have already taken place around 11.30 am, the last will take place between 1 and 2 pm.
---
---