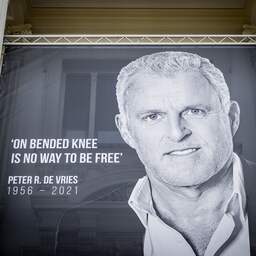 The man who was arrested on Monday for involvement in the murder of Peter R. de Vries is known to the police and the judiciary. That writes the AD on Tuesday. The suspect was previously convicted of a fatal robbery.
According to newspaper sources, the suspect is Ludgardo S. from Tilburg. In 2011, he allegedly robbed a store in Vlaardingen with his brother and two friends. A customer was killed by a ricochet bullet.
For the offense, S. was sentenced to eight years in prison, the AD writes. After his release, he was convicted of weapons possession and driving without a license or under the influence, among other things.
The newspaper writes that S. lost his brother a month ago. He would have been shot at a gas station in Tilburg. The suspected shooter is in custody.
The police and the judiciary suspect that S. was involved in the preparation of the attack. He may have carried out preliminary reconnaissance. S. is detained and is only allowed to have contact with his lawyer.
There are eight suspects in the murder case. Two of them, Kamil E. and Delano G., are suspected of carrying out the murder.
The Public Prosecution Service (OM) already demanded a lifelong prison sentence against driver E. and alleged shooter G. last summer, but shortly afterwards received new information about the possible clients of the murder. The case was reopened and resumed on January 6.
Crime journalist De Vries was shot in Amsterdam on July 6, 2021. Nine days later, he died of his injuries at the age of 64.
De Vries was a confidant of Nabil B., the key witness in the controversial Marengo liquidation process, in which Ridouan Taghi is the main suspect. In 2018 B.'s brother Reduan was shot dead and in 2019 B.'s lawyer Derk Wiersum.
---
---