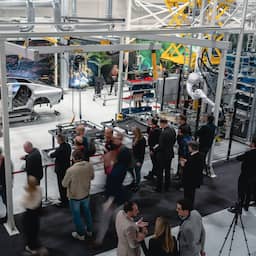 Maker of electric solar cars Lightyear stops production of its first expensive model. The company allows the business unit responsible for this to go bankrupt. The focus is completely shifted to the cheaper model, which can be produced on a large scale, Lightyear says.
21,000 copies of the cheaper variant have been ordered by leasing companies and car-sharing companies. In addition, more than 40,000 consumers have already signed up for a list to express their interest in that car.
The Lightyear 0, previously known as Lightyear One, went into production at a factory in Finland at the end of November. Initially, it was one car per week, but production should be increased in the course of this year.
According to Lightyear, the 0 can drive more than 800 kilometers on a full battery. In addition, the solar panels on the roof can provide extra charge. Originally, the car cost about 120,000 euros, but the price rose to 250,000 euros due to expensive parts, among other things. In the end, only "a handful" rolled off the production line, Lightyear says.
The cheaper Lightyear 2 should cost less than 40,000 euros and come on the market in 2025.
---
---