Director Tommy Wirkola has good news for fans of his Christmas movie Violent Night (2022): The gory action movie with David Harbor gets a sequel! The director is currently working on the plot.
Take time for the script
In an interview with The Wrap, Wirkola says that he is busy with the studio to fully work out the plan for a sequel. The director really wants to take the time to level up the script. Only then will the recordings start.
We're talking about it and we're just making deals to get everything sorted out. We have time to really crack the script and figure out the story.

Tommy Wirkola
Pat Casey and Josh Miller will return to write the script. The director also has some ideas.
There are things we left out, like the North Pole, Mrs. Claus, the elves. But story-wise, I think we have a really, really cool idea that expands the world and scope, but still keeps that tone that we love from the first one.

Tommy Wirkola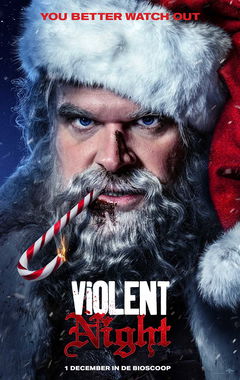 6.7
A team of mercenaries break into a wealthy family's home on Christmas Eve, taking everyone in the house hostage. But they did not count on the presence of Santa Claus.
David Harbor again?
It is not mentioned whether protagonist David Harbor will also return. But it seems likely that he will once again step into Santa's shoes. In Violent Night we saw how the lucky girl Trudy gets a device for Christmas that allows her to talk to Santa Claus. That same evening, the family's huge house is the target of a group of violent robbers. They are looking for the $ 300 million that the family would have in a safe. Not if it's up to Santa Claus. He shows his hardest side in a fight for the good.
Beeld: Still 'Violent Night' via TMDb
---