---
Jan 24, 2023 at 7:56 PMUpdate: 4 minutes ago
Heated training sessions, hours of footage and a booklet full of notes should help the Dutch hockey players to succeed in any shoot-outs at the World Cup. In recent years, the Orange has developed a love-hate relationship with the part, with the eyes mainly focused on goalkeeper Pirmin Blaak.
In the hotel in Bhubaneswar, India, goalkeeper Blaak is a popular guest with domestic and foreign journalists the day before the quarterfinals against South Korea. Remarkable, when you consider that he has played an ungrateful role in India so far.
According to the statistics, Blaak only had to deal with two balls in the first three matches, although he himself claims that there were four. The fact is that he had very little to do. The team of national coach Jeroen Delmee closed the group stage with a goal difference of 22-0.
Now the phase of the tournament has arrived in which Blaak can claim the leading role. At least that's how national coach Jeroen Delmee sees it. "In recent years he has proven himself as a shoot-out specialist at the European Championship won, but also at the World Cup lost. That can be a mental advantage for us."
Results Orange at last major tournaments

WK 2018: silver (loss in final after shoot-outs against Belgium)
EC 2019: bronze
EC 2021: gold (win in final after shoot-outs against Belgium)
Games 2021: sixth (quarter-final loss on shoot-outs to Australia)
'My shopping list is more structured'
The hockey players were already full of interest on television on Monday for the game between Argentina and South Korea in the intermediate round. One of those countries would be the opponent in the quarterfinals. But when the game was decided via shoot-outs, goalkeeper Blaak in particular sat on the edge of his seat.
"It was all free information," says Blaak with a laugh. He writes everything down in his book, which he takes out during any shoot-outs. A new booklet for each tournament. "But my shopping list is more structured," says the 34-year-old goalkeeper.
Based on hours of footage, Blaak writes in the booklet which actions players often perform under pressure. "The great thing is that sometimes it doesn't even contain anything useful," continues Blaak. "Then I just pretend. That's a nice part of the game. You feel like you're already 1-0 ahead."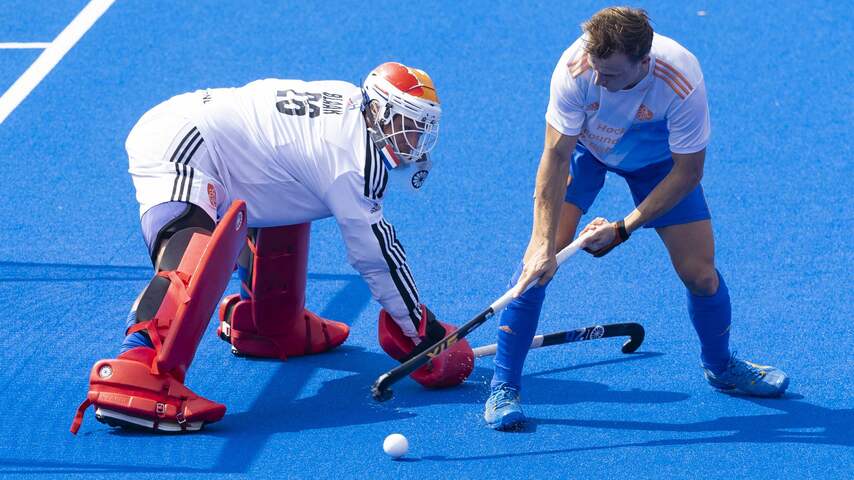 Pirmin Blaak at training in a duel with Thijs van Dam. Photo: ANP
The Netherlands tried to imitate pressure from shoot-outs
Where the shoot-out series is something to look forward to for Blaak, Thijs van Dam knows what it's like to be on the other side. The attacker from Rotterdam missed one of the shoot-outs in the World Cup final five years ago, so that not the Netherlands, but Belgium became world champions.
The miss sometimes haunts the head of Van Dam, who was one of the youngsters at the time at the age of 21. "It's still painful," he says. "I sometimes think: if only I had this or if only I had that. Anyway, that doesn't count in top sport."
Van Dam and his teammates tried to imitate some of the pressure in training last year. For example, a goal in a game is only valid if the goal is 'confirmed' with a striking shoot-out.
"Our training matches can be quite heated, so it's really about winning or losing," says 26-year-old Van Dam. "But the pressure of a full stadium will not be able to imitate a country, so neither will we."
The quarterfinal between the Netherlands and South Korea starts on Wednesday at 12 noon. Both Van Dam and Blaak have a plan for a shoot-out series ready, although the two would rather not have it come to that.
Program and results hockey players at World Cup
Group stage: Netherlands-Malaysia 4-0Group stage: New Zealand-Netherlands 0-4Group stage: Netherlands-Chile 14-0Quarterfinal: Netherlands-South Korea (12.00)
Image: ANP
---
Read more about:
HockeyHockeyersWK hockey
---
---
---
---