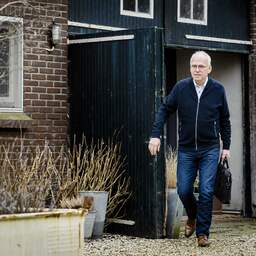 European Commissioner Virginijus Sinkevicius warned the cabinet in mid-December that the European Commission (EC) will probably not agree with the plans of Minister Piet Adema (Agriculture) to deviate from the manure agreements. This is evident from a letter in the hands of NOS and De Telegraaf.
Adema announced on Friday that it would not implement the more flexible rules regarding the spreading of manure. This happened after the EC threatened to scrap the exception for Dutch farmers.
Dutch farmers are allowed to spread more manure than their European colleagues, but that will come to an end in 2026. The Netherlands has been given this phase-out period, but must comply with strict rules.
Those rules were, for example, about mandatory unplanted buffer strips and the use of so-called catch crops so that less nitrogen ends up in the groundwater. According to the agreements with the EC, these conditions had to be met this year, but Adema granted the farmers a year's extension. The EC disagreed.
But Sinkevicius already warned in December that the EC would scrap the exception if Adema went through with his plans. In his letter, the MEP writes that the Netherlands is not complying with the agreements with the postponement. He sent that letter on December 19, a day before the House of Representatives held a debate on the subject.
The ministry informed De Telegraaf in a response that Adema received the letter but did not read it before the debate. In that debate he also said that he hoped to convince the EC.
"During the debate, the minister assumed follow-up talks with the European Commission on this issue, hence his statements," the ministry told the newspaper. "At that time, he thought he could convince the Commission with a substantive explanation why a number of measures would take effect later, which is why he indicated that he had no major concerns."
Adema suddenly returned on Friday for an emergency meeting on the subject. That same day, the farmers heard that they must comply with the new manure rules as of 1 March. According to the minister, nothing will change for "a lot of farmers". Adema could not yet say exactly how many farmers will be hit.
---
---