---
Jan 23, 2023 at 05:38 Update: 2 minutes ago
Last year, 285 people donated their organs after death. According to the Dutch Transplantation Foundation (NTS), this is the largest number ever.
The increase meant that more organ transplants could be performed last year. In 2020, 251 people still donated their organs after their death, compared to 271 in 2021. Last year, the number rose to 285.
Since the autumn of 2021, every adult Dutch person has been registered in the Donor Register. The number of people registered with 'yes' or 'no objection' has increased considerably. "As many as 8.1 million people have given permission for organ donation," the Kidney Foundation writes in a press release.
The new donor law has been in force since 1 July 2020. As a result, you automatically become an organ donor from the age of eighteen. If you do not want this, you can explicitly indicate this in the Donor Register.
It is still clear whether the increase in the number of donors is the result of this new donor law. The Ministry of Health, Welfare and Sport will evaluate the law at the end of this year.
Number of transplants back to pre-coronavirus levels
In 2020 there was another drop in the number of organ donors and transplants. Due to the increase, a total of 860 organ transplants were performed last year. As a result, the numbers have returned to pre-coronavirus levels.
NTS director Bernadette Haase is pleased with the increase. "We greatly appreciate the choice of donors and next of kin to donate. As a result, so many life-saving transplants can be done."
Haase also states that the quality of organs removed has improved thanks to innovations. According to her, this meant that even more patients could be helped.
Waiting list for kidney transplants is growing due to large influx of patients
Despite the high transplant numbers, the waiting list for a kidney transplant has become somewhat longer. According to NTS, this is due to the large influx of new donor patients. The waiting list for a donor kidney has increased by 5 percent, from 877 to 923, according to the Kidney Foundation.
However, more kidney transplants were performed last year. The number of living donor kidney transplants has risen to the highest level in recent years.
In recent corona years, that number had fallen sharply, because living donation could not take place in many cases due to the limited ICU capacity.
People who need a new kidney form the largest group of people waiting. In total, more than twelve hundred people are waiting for a new organ.
05 Oct 2021 at 00:00
New donor law resulted in 3.7 million new registrations in a year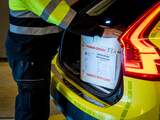 Beeld: Getty Images
---
Read more about:
Health Donor Act Interior
---
---
---
---