---
Jan 23, 2023 at 1:20 PMUpdate: 5 minutes ago
Ronald Koeman will play with four defenders again as national coach of the Dutch national team. This means that he deviates from the much-discussed system of his predecessor Louis van Gaal.
"In principle, we are going back to the system we played during my first term. I sometimes change the system, but the basic idea is that we will play with four defenders," said Koeman in Zeist, where he was presented as national coach on Monday.
The game system was the subject of discussion at the end of last year. Van Gaal opted for a formation with five defenders, but the Orange did not make a good impression at the World Cup in Qatar with that battle plan. After an unconvincing tournament in the quarterfinals, the Netherlands was eliminated by Argentina after penalties.
"I watched the World Cup with great interest and was curious how the system would be reflected," said 59-year-old Koeman. "I also looked at a lot of other countries. Then I listed everything and looked at how I want to do it myself."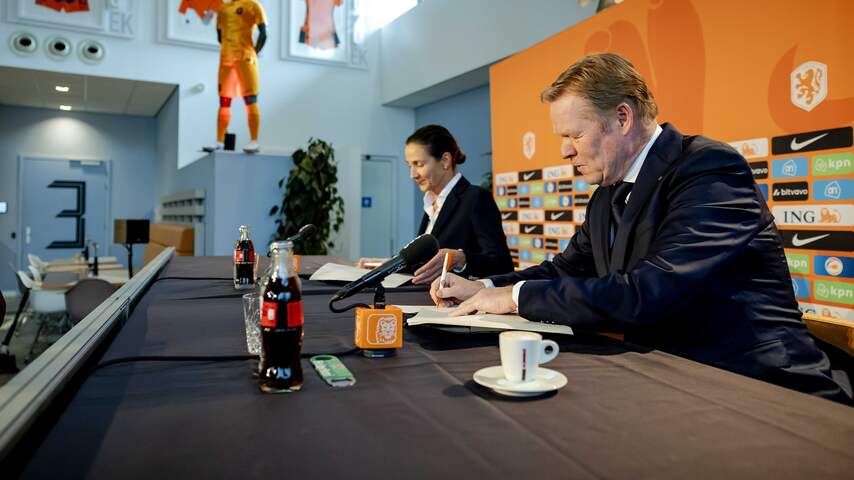 Ronald Koeman officially signed his contract as national coach on Monday. Photo: ANP
'Often had a man left in the back in 2018'
It is no big surprise that Koeman will play with four defenders again. During his first term as national coach, between 2018 and 2020, he also opted for a 4-3-3 system. He had the necessary success with that; The Orange reached, among other things, the final of the Nations League, which was lost to Portugal in 2019.
"In 2018 we had a run-up period of four international matches with 3-5-2, or whatever you want to call the system. We got into trouble in a number of those duels, because we often had a man left in the back. We came in elsewhere in the field short."
Koeman also discussed his tactical plans with some key players within the selection. "And it was also about the system. You just have to ask them what they think about it."
Koeman, who has signed a contract with the KNVB up to and including the 2026 World Cup, has to wait a while for his first match as national coach of the Dutch national team. The first game under his leadership is scheduled for March 24. The Orange will then start the qualifying series for the European Championship 2024 with an away match against France.
Image: ANP
---
Read more about:
OrangeRonald KoemanFootball
---
---
---
---