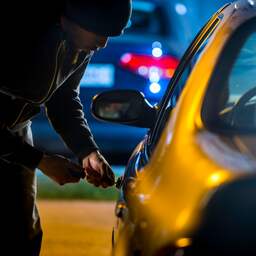 Car thieves struck much more often in 2022. Last year, 5,973 cars were reported stolen, 11 percent more than a year earlier. On our response platform NUjij you wondered how you can (possibly) prevent theft of your own car. Below are a few tips!
About 45 percent of all stolen cars are recovered, according to the latest figures from the National Vehicle Crime Information and Expertise Center (LIV). "In corona times, criminals did something different, but now it's business as usual," explains André Bouwman of the LIV the increase in the number of car thefts.
Keep your keys in a cookie tin
The Internet is full of videos of criminals standing at the front door of a house scanning for a radio signal from a car key. A good way to avoid this is to store your key(s) in a metal box. In this way, the signal cannot be received outside the house.
Point your security cameras at your car, too
Installing a camera to protect your home against burglary is allowed. Pointing a camera at the public road or your neighbour's house or garden is not allowed. But if you have a security camera, you can of course be a little creative when hanging it up, advises Wouter Verkerk, director of the Vehicle Crime Insurance Agency (VbV).
Verkerk also advises to park your car indoors. If you do not have a garage, it is important that the car is in a well-lit place. Car theft or stripping a car mainly takes place when it is dark.
Build in an alarm system
Many modern cars already have an alarm system of their own. You can have an alarm system installed in older cars. Make sure you have a car alarm with the CCV quality mark (Centre for Crime Prevention and Safety).
Use carriage bolts
Wheel theft is made more difficult by securing them with carriage bolts. You tighten these bolts in the wheel just like normal wheel bolts, but there is one difference: a special wrench is needed to unscrew them.
Check your insurance
Victims of car theft have often not considered whether their insurance company will reimburse the damage when they took out the insurance. "That is why it is always wise to check to what extent you are insured against theft," says Suzan Samson, car insurance expert at Independer. The Independer website contains more information about how car insurers deal with theft.
Did you find this article via Net Binnen? You can find pieces like this every day via the NUjij button at the bottom of your app!
---
---