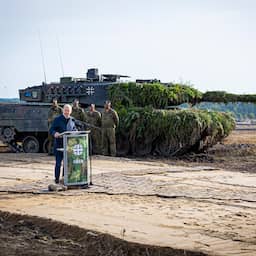 Ukraine may receive the modern Leopard 2 tanks that the country is eagerly hoping for. Poland said on Sunday that it no longer wanted to wait for German permission for the delivery. The German foreign minister came up with a striking response: "If Poland wants to send the tanks, we will not interfere."
Minister Annalena Baerbock made her statements on Sunday in conversation with the French TV channel LCI. In doing so, she emphasized that Poland had not yet submitted a request to send the German-produced Leopard 2 tanks to Ukraine.
Her statements indicate that Germany's attitude towards the delivery of the tanks has changed. Chancellor Olaf Scholz has so far refused to allow other countries to export their Leopard 2 tanks.
The countries need that permission, because the tanks are made in Germany. But Scholz fears that the conflict in Ukraine will escalate due to the delivery of heavy weapons. The tanks that Poland wants to send are also suitable for attack and can provoke Russia. Leopard 2 tanks are the best, heaviest and deadliest tanks in Europe.
Last week, during consultations of the Ukraine Defense Contact Group in Germany, extensive consultations were held about the delivery of Leopard 2 tanks. In addition, Germany seemed to want to wait for the United States: if that country would send tanks, Germany would also tack. But the US still does not want to send tanks. That makes Baerbock's statements and Germany's turn striking.
It is not clear whether Poland will soon submit an export request to Germany. Polish Prime Minister Mateusz Morawiecki implied on Twitter on Sunday that a request could follow soon. "We will not stand idly by as Ukraine bleeds to death."
---
---