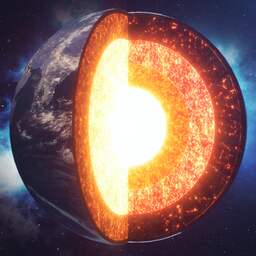 ---
Jan 23, 2023 at 8:52 PMUpdate: 9 minutes ago
Earth's solid inner core has stopped spinning in the same direction as our planet. Subsequently, the sphere even started to rotate in the other direction, Chinese seismologists suggest in a new study.
The inner core looks like a kind of metal sphere. It is slightly smaller than our moon and would mainly consist of iron and nickel. The sphere, as it were, swings back and forth in the liquid outer core of the earth.
Researchers at Peking University state that the inner core came to a standstill around 2009. Then the direction of rotation reversed. According to the scientists, this already happened in the 1970s. The theory is that this happens every 35 years. A cycle therefore takes about seventy years.
The scientists used sixty years of data from seismic waves caused by earthquakes for their research. The study is published in the scientific journal Nature Geoscience.
At present, there is no evidence that the behavior of the inner core directly affects us. The scientists do think that the different layers of the earth are connected: from the core to the surface.
Providing evidence is difficult, drilling is impossible
Providing evidence for the new theory is difficult. Drilling 6,000 kilometers into the Earth's interior is impossible. The little we can learn about the inner core is based on small differences in seismic waves passing through the center of the Earth.
Other seismologists, who were not involved in the study, are therefore cautious. However, the Chinese seismologists have done a very careful investigation, according to the American seismologist John Vidale.
Last year, Vidale came to a different conclusion, namely that the inner core of the earth changes its direction of rotation every six years. He based his theory on seismic vibrations caused by nuclear tests in the 1960s and 1970s during the Cold War.
Evidence for solid core provided in Utrecht
In addition, there are more theories about the inner core of our planet. One is that another ball is hidden in the metal ball, like a Russian matryoshka doll.
Because of the inaccessibility, it is possible that we will never find out the truth, Vidale thinks. "But I'm an optimist. One day all the puzzle pieces will fall into place."
The inner core of the Earth was discovered in 1936 by the Danish seismologist Inge Lehman. More than ten years ago, Arwen Deuss, as a graduate student at the University of Utrecht, came up with proof that that core was solid.
Beeld: Getty Images
---
Read more about:
Science
---
---
---
---