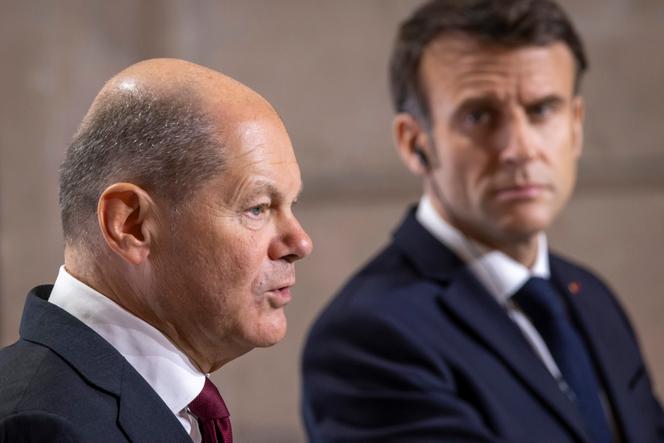 Olaf Scholz and Emmanuel Macron, during the press conference following the Franco-German Council of Ministers, at the Elysée Palace, January 22, 2023. JEAN-CLAUDE COUTAUSSE FOR "THE WORLD"
Lyrical speeches, beautiful images, a joint statement full of good intentions, but no breakthrough on the hot topics of the moment. The Franco-German Council of Ministers, coupled with the celebration of the 60th anniversary of the friendship treaty between the two countries, gave birth to a mouse, Sunday January 22 in Paris. After having been postponed twice since July 2022, the meeting with great fanfare of their two governments was nevertheless supposed to allow Paris and Berlin to restore their capacity for impetus in Europe, at a time when their relative military restraint in the face of Russia and the massive commitment of the United States alongside Ukraine are redistributing the continental balance of power.
Sign of their relative strategic impotence, France and Germany have certainly assured that they will support Ukraine "as much as necessary", but, during their press conference at the Elysee Palace, Emmanuel Macron and Olaf Scholz remained evasive on the issue of battle tanks, the delivery of which is loudly demanded by kyiv and its closest allies. "Nothing is ruled out", thus laconically replied the French president about the Leclerc tanks, before laying down three conditions for a possible green light: "that it is not escalatory" vis-à-vis Russia, " that this can provide real and effective support to our Ukrainian friends" and that this does not weaken France's "own defense capabilities".
At his side, the German Chancellor was even more cautious, choosing to kick into touch when a journalist asked him if Berlin intended to supply Leopard 2 tanks to Ukraine. Since the beginning of the war, "we have not stopped increasing our arms deliveries (…), and we have always coordinated all our decisions in close collaboration with our allies", he contented himself with replying.
Read also: Article reserved for our subscribers Franco-German couple: an anniversary in the shadow of the war in Ukraine
Unexpectedly, it was the German foreign minister who made the most notable statement of the day regarding tank deliveries. Guest of the LCI channel, Annalena Baerbock indeed affirmed that Berlin would not prevent Poland from delivering German-made Leopard 2s to Ukraine. "For the moment, the question has not been put to us but, if it were, we would not oppose it", assured the former president of the Greens. That this important information was given by Annalena Baerbock on a French television channel and not by Mr. Scholz from the Elysee Palace is an illustration of the balance of power that runs through the ruling coalition in Berlin, in particular on the sensitive issue of deliveries. of arms, where the prudent line of the social-democrat chancellor is opposed to that, much more voluntarist, of his ecologist and liberal allies.
You have 71.34% of this article left to read. The following is for subscribers only.
---
---