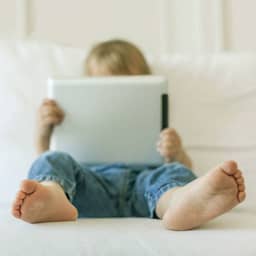 On our response platform NUjij you discussed the adverse health effects of a lot of screen time on young children. What negative consequences can this have? We explain that below.
Due to a lot of screen use and little outside air, children's eyes deteriorate quickly, ophthalmologists warn. According to remedial educationalists Caroline van Breda and Gertruud Schalen, completely banning screen use is not feasible. But it is often possible to cut down.
Children play outside less often than before. They look closer at a screen more often than adults, causing their eyes to enlarge. This damage is permanent, warns ophthalmologist Caroline Klaver, affiliated with Erasmus MC and Radboudumc.
The ophthalmologist advises not to give children under the age of two a telephone or tablet. For children between the ages of two and five, the advice is a maximum of one hour per day and for children between the ages of six and ten a maximum of two hours.
But reducing screen use is easier said than done, realizes remedial educationalist generalist Van Breda of Jeugd in de Praktijk. "Something is always happening on a phone or tablet. You are rewarded for every button you press. That is addictive. It is often difficult for adults to put their phone away, but even more so for children."
Did you find this article via Net In? You can find pieces like this every day via the NUjij button at the bottom of your app.
---
---