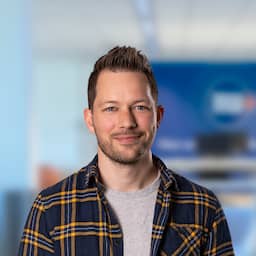 ---
Jan 22, 2023 at 12:01
This Sunday you will also get a look behind the scenes at NU.nl. Today editor-in-chief Gert-Jaap Hoekman says goodbye to deputy editor-in-chief Colin van Hoek, who will do something else after fourteen years of NU.nl.
He talks as fast as he thinks. Colin joined the editorial board of NU.nl fourteen years ago and immediately made an impression. Not only with the speed with which he spoke, but especially with what he said.
That already happened during the job interview for his internship, remembers former colleague Wilma Haan (now deputy editor-in-chief NOS Nieuws). "He was smart, fast, ambitious and had a haircut like Justin Bieber."
"Against intimidating for the established order," says Dennis van Luling, currently deputy editor-in-chief of RTL Nieuws.
Advise with a bucket of numbers
Colin will leave NU.nl after next week. He will have a new role within DPG Media, the company of which we are part. Colin will lead a team that advises editors with a bucketful of numbers in hand.
An important role, because nowadays you can blindly focus on data. There is a danger that you let everything revolve around the clicks. While it is precisely about using figures to improve journalism.
That we know what you think is important, but at the same time steer our own course. That we see when you drop out in our stories and videos, so that we can take that into account. And that we know when you most often visit us, so that we can publish our best stories.
Love for numbers and journalism
All of this is in excellent hands with Colin. I don't know anyone whose love of numbers and love of journalism are so balanced.
At the start of his career at NU.nl, Colin was mainly our gadget connoisseur. Also outside NU.nl, at the desk at RTL Boulevard. Tech was then the editors with whom we tested many new things. Also because Colin was always aware of new developments.
We filmed with the Google Glass. We launched a podcast before that media form was a hype. We made live streams for hours on different topics.
The DNA of NU.nl
This is how Colin formed the DNA of NU.nl. We don't really like long meetings, but we like doing things.
In recent years, I have led NU.nl together with Colin. A turbulent time, when we were taken over by DPG Media. We got corona for the choosing. We covered the biggest news story of our time while we were all sitting at home. And we brought back NUjij, the largest response platform in the Netherlands.
Meanwhile, Colin treated us to a sharp analysis every morning. He spared no one in this. Even if sometimes it wasn't until 7am when he shared his vision. To the point of irritating, because he was often right.
Fortunately, he continues to do that for us. His departure is not goodbye.
Is there something you would like more explanation about? Mail me at [email protected] and maybe I'll deal with it here soon.
Image: NU.nl
---
Read more about:
Editorial blog
---
---
---
---