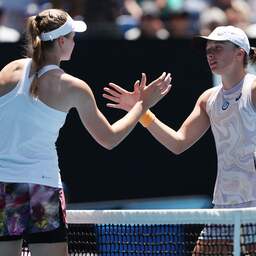 Iga Swiatek found it very difficult to deal with the high expectations at the Australian Open, the Polish world ranking leader said after her loss to Elena Rybakina in the eighth finals of the Grand Slam tournament.
In the first three rounds, Swiatek made a sovereign impression, but she fell short against reigning Wimbledon champion Rybakina; it became 4-6 and 4-6. "I felt the pressure. I played thinking I didn't want to lose instead of wanting to win," Swiatek said at the press conference.
The Polish won no less than 67 matches on the WTA Tour last year, the most since Serena Williams in 2013. As a result, Swiatek was one of the big favorites for the overall win in Melbourne. She felt that way herself.
"Maybe I should approach these kind of tournaments differently. Today I might have wanted too much. Next time I'll try to be a bit more relaxed."
It is not the first time that Swiatek has succumbed to the pressure; last year, after a long winning streak, she got stuck in the third round of Wimbledon due to a defeat against Alizé Cornet. She then posted mixed results in the summer, but came back strong by winning the US Open.
"Before the US Open I could let go of everything because I played very badly in Toronto and Cincinnati. So I started the US Open without too high expectations of myself."
Despite her early elimination at the Australian Open, Swiatek remains the world ranking leader.
---
---