---
Jan 22, 2023 at 5:34 PM Update: 2 hours ago
Feyenoord coach Arne Slot is mostly satisfied after the 1-1 draw in De Classic. The coach of the leader noted, among other things, that the team from Rotterdam was much more resilient than in many recent duels with Ajax.
"Football wise, we went with them," Slot told ESPN. "That is the biggest compliment today. In recent years – except for last season – Feyenoord-Ajax has often been one-way traffic. Now we have often pinned them."
Feyenoord took the lead after 34 minutes via Igor Paixão, after which Davy Klaassen scored the equalizer in the 71st minute with a fumble goal. In the final phase, both teams had chances to win.
Substitute Santiago Giménez had the 2-1 on behalf of Feyenoord. "It was a great pity that he missed it, it was played out great. He often made these kinds of balls, but now the keeper unfortunately caught him."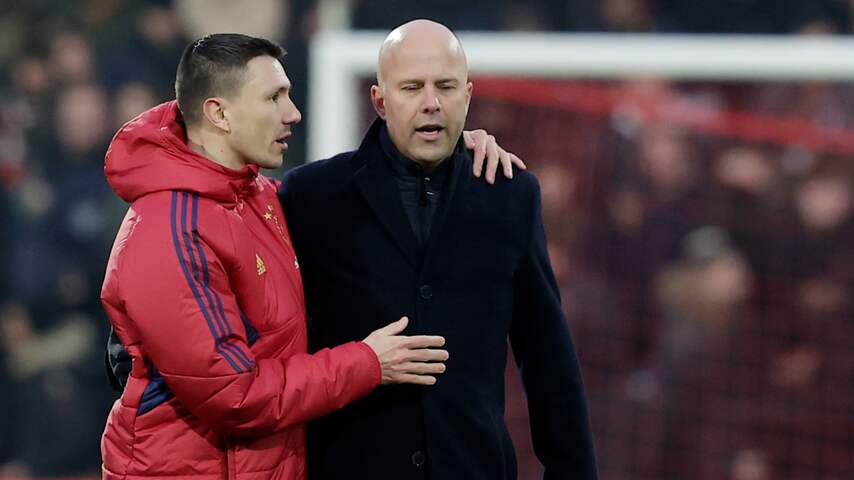 Arne Slot afterwards with Steven Berghuis. Photo: Getty Images
Slot saw Feyenoord dominate
Slot saw a dominant Feyenoord. "I think we put very good and fanatical pressure in the first half. That also happened in the first fifteen, twenty minutes after the break. But then there was a phase where they could often cross the midfield. It seemed as if we were tired were, but in the final phase we still went for the 2-1."
Feyenoord keeps Ajax five points behind due to the draw. "Ajax is definitely a big competitor, but there are also other teams that we have to keep an eye on", the coach referred to the small differences in the upper regions of the Eredivisie.
Captain Orkun Kökçü had mixed feelings about De Classic. "I don't want to say that we were always better playing football, but I think we were better at creating good opportunities from difficult situations. Then you are disappointed when the 1-1 falls."
The top five in the Eredivisie
1. Feyenoord 17-38 (+25)2. AZ 17-36 (+13)3. PSV 17-35 (+23)4. FC Twente 17-34 (+19)5. Ajax 17-33 (+27)
Jan 22, 2023 at 4:29 PM
Leader Feyenoord relinquishes victory after the break in loaded Classic against Ajax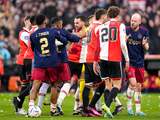 Image: ANP
---
Read more about:
FeyenoordAjaxEredivisieFootballArne Slot
---
---
---
---