---
Jan 22, 2023 at 10:03 PM
Vivianne Miedema and Chelsea coach Emma Hayes, among others, have called on the English FA to make pitch heating mandatory for Super League clubs. The game between Chelsea and Liverpool was stopped after five minutes on Sunday, because players slid down on frozen parts of the field.
"The safety of the players must always come first," writes injured Arsenal striker Miedema Twitter. "Fortunately no one was injured today."
"The only way to solve this is to make pitch heating compulsory or to play our matches in the men's stadiums. FA and clubs, make sure you do this better."
Referee Paul Howard had approved the Kingsmeadow pitch on Sunday morning, where the Chelsea women play their home games. But some parts of the turf turned out to be frozen when the game started.
Unfortunately, this content cannot be displayed. We do not have permission for the necessary cookies. Accept the cookies to view this content.
Change cookie settings
'This is embarrassing for the competition'
After some football players had slipped and were visibly bothered by it, the referee decided to stop the match. The whole situation led to quite a few aggrieved reactions. "This is embarrassing for the league, the players and everyone involved," said former England coach Hope Powell.
"This game should never have started," said Chelsea coach Hayes. "You immediately saw after the kick-off that it was just like an ice rink on the sides of the field. It is not up to the trainers to decide on this, but the referees must determine whether a match can be played or not."
"Now we have to say to each other that it is really time for field heating. We have to take our sport seriously. Yes, we can work with blowers and tents or sails over the field, but that is not enough."
Jan 12, 2023 at 5:44 PM
Miedema and Wiegman have a chance to win a FIFA award, Ronaldo is missing from men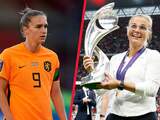 Beeld: Getty Images
---
Read more about:
Women's SoccerVivanne MiedemaFootball
---
---
---
---