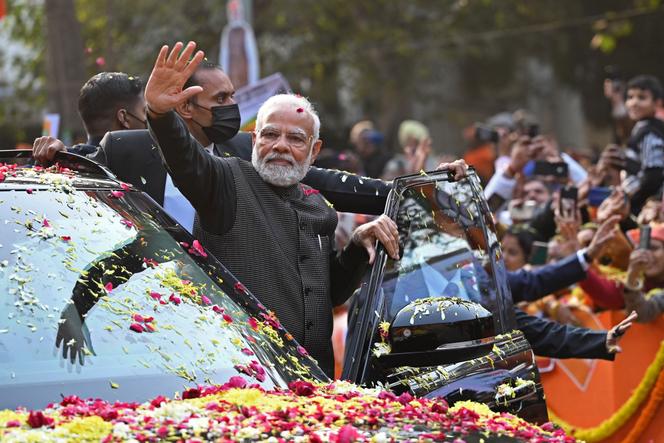 Narendra Modi greets his supporters in New Delhi, January 16, 2023. SAJJAD HUSSAIN / AFP
This could refresh relations between London and New Delhi. The Indian government announced on Saturday January 21 that it had blocked videos and tweets sharing a BBC documentary on Prime Minister Narendra Modi's role in community riots, calling it "propaganda".
Documentary titled India: The Modi Question claims Prime Minister, then Gujarat's head of state, ordered police to turn a blind eye to serious violence that caused death of at least a thousand people in 2002, mostly from the Muslim minority. The program was not broadcast in India, the world's most populous democracy.
Twitter was also ordered to block more than 50 posts with links to videos of the documentary hosted on YouTube. The two companies, which did not comment on Sunday, complied with the instructions, said government adviser Kanchan Gupta. Some tweets, however, still showed excerpts on Sunday.
Declassified report
Gupta, who said the program could affect India's "friendly relations" abroad, said several ministers reviewed the documentary and said it called into question the credibility of India's Supreme Court, which cleared Mr Modi in 2012.
The 2002 riots started in Gujarat after 59 Hindu pilgrims were killed in a fire aboard a train. Subsequently, 31 Muslims were convicted of criminal association and murder. The BBC documentary includes a declassified report from the British Foreign Office, which cites anonymous sources according to which Narendra Modi met with police officers to "order them not to intervene" during the anti-Muslim violence that followed the death. pilgrims.
Read also Article reserved for our subscribers "Project Pegasus": in India, a state within a state ready to do anything to protect the Prime Minister
This violence committed by far-right Hindu groups was "politically motivated" with the objective of "purging Muslims from Hindu areas", adds the ministry report. This "systematic campaign of violence has all the hallmarks of ethnic cleansing" and was impossible "without the climate of impunity created by the state government (…). Narendra Modi is directly responsible," the report concludes. Mr. Modi, who led the state of Gujarat from 2001 to his election as prime minister in 2014, was briefly banned from the United States because of the violence.
---
---