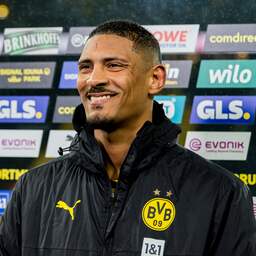 Sébastien Haller is happy and grateful that he made his official comeback on Sunday after being sidelined for months due to testicular cancer. The Borussia Dortmund striker came on during the spectacular home game against FC Augsburg (4-3).
Haller entered the field after an hour to great applause and cheers at a 2-2 score. The 28-year-old Ivorian wore orange shoes with the text 'fuck cancer' on it, with the sign of a lightning bolt in place of the 'u'.
"Of course my return was emotional. It was not the easiest phase of my life. But I knew I could count on the support of the players, trainers and fans. To get such a welcome, that's great." he told.
"We must not forget why we play football. We can do what we love to do. I enjoy every moment on the pitch. Moments like these are precious. What I've been through has made me realize how important that is. I have to now working hard to get back to full fitness."
At the beginning of this season, Haller went from Ajax to Dortmund for more than 30 million euros. Soon after, he was diagnosed with testicular cancer. In recent months, he underwent two surgeries and four rounds of chemotherapy.
On his return – also his debut for Borussia Dortmund – Haller did not score. He saw teammate Giovanni Reyna score the winning goal for the current number six of the Bundesliga.
---
---