---
Jan 20, 2023 at 6:29 PM
A British scientist has discovered a breeding colony of emperor penguins in West Antarctica through satellite photos. He tracked them down when he saw brown spots on the ice, which turned out to be the animals' excrement.
Peter Fretwell of the British Antarctic Survey (BAS) research institute studied melting ice sheets in West Antarctica using satellite images. "Suddenly I saw small brown spots on the ice, which looked like signs of a breeding colony of emperor penguins," he told the Live Science news site.
This group of penguins had not been seen before. According to Fretwell, only 66 breeding colonies of this species of penguin are known to the research institute. The group is estimated to consist of a thousand penguins, which the scientist says is a small number for a bird colony.
Emperor penguin colonies are often in remote locations, which makes them difficult to study, Fretwell says. Researchers at BAS have discovered a number of them in satellite photos of the coast of Antarctica over the past 15 years.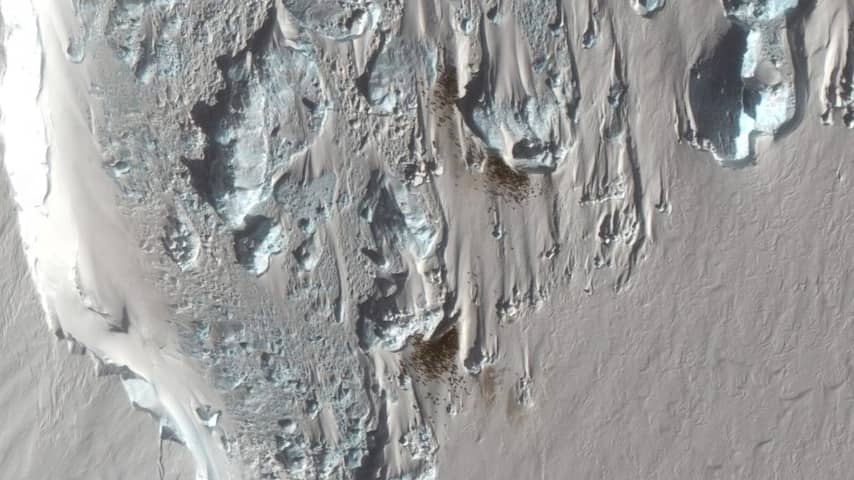 The BAS satellite images showing the emperor penguins' droppings. Photo: British Antarctic Survey (BAS)
Emperor penguins endangered
Based on recent satellite research, scientists believe there are about 20 percent more emperor penguins in Antarctica than previously estimated. But due to the warming climate and melting ice caps, the emperor penguin has become an endangered species. The animals depend on packed sea ice because they only breed on it.
"Last year we had the smallest amount of sea ice ever seen in Antarctica and this year it's even worse," Fretwell told Live Science. "It is estimated that we will lose at least 80 percent of emperor penguin colonies before the end of the century."
The emperor penguin is the largest and heaviest of all penguins. It can grow up to 1 meter in length and weigh up to 45 kilograms. The animals spend most of the Antarctic summer hunting fish and crustaceans.
During the dark winter months, they breed on the surface of the sea ice, sometimes more than 50 kilometers from the open ocean. The temperature can drop to -60 degrees.
20 Sep 2021 at 16:08
Bee attack kills 64 black-footed penguins in South Africa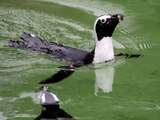 Beeld: Getty Images
---
Read more about:
ClimateAntarcticaAnimals
---
---
---
---