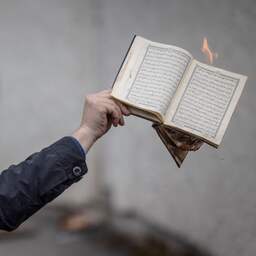 The Danish-Swedish right-wing extremist politician Rasmus Paludan burned a Koran in front of the Turkish embassy in Stockholm. Paludan had been given permission for the anti-Turkish protest. The burning of the Koran puts further pressure on the difficult relationship between the two countries.
About a hundred people attended the burning of the Quran, many of them journalists. As Paludan burned the book, he gave a nearly hour-long monologue about Islam and immigration. A small pro-Turkish protest was held on the other side of the embassy. There were no clashes between the two groups.
There is fierce reaction in Turkey to the burning of the Koran. Both the government and the opposition speak of a "fascist act" and a "hate crime".
The Danish-Swedish Paludan is a controversial figure who, for example, believes that Islam should be banned. Last April, riots broke out all over Sweden because Paludan organized gatherings where he wanted to burn Korans.
The Swedish ambassador to Turkey had to report on Friday because of the planned Koran burning. The government of Recep Tayyip Erdogan has also put an end to the visit of the Swedish defense minister next week.
The two countries have been at odds for months since Turkey blocked Sweden and Finland from joining NATO. Ankara stipulates that Sweden will extradite up to 130 people whom Turkey sees as Kurdish terrorists or who would be involved in the coup attempt in 2016. The Swedish defense minister had hoped to iron out all the wrinkles with his visit next week.
---
---