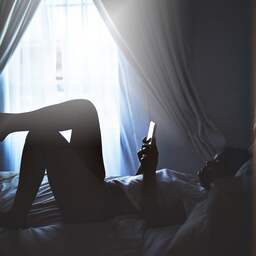 ---
Jan 21, 2023 at 12:01
Online sexual violence is becoming more and more common. Although this trend has been going on for some time, the current legal system is not set up for it, Victim Support Netherlands and the Center for Sexual Violence say to NU.nl.
"The number of reports about online sexual violence that we receive is just the tip of the iceberg," say Iva Bicanic, director of the Center for Sexual Violence, and Roy Heerkens of Victim Support.
The police joins in. Research shows that in 2021 it received just over four hundred reports about sextortion. "That is only a fraction of the whole," says a police spokesman. In 2022, the number of reports of online sexual violence was 5 percent higher than in 2021. Only 5 percent of victims seek help and an even smaller proportion report the crime.
According to Statistics Netherlands, 35 percent of girls aged sixteen to eighteen experienced online sexual violence in the past year. For boys of that age it is 9 percent.
For example, an extortion case recently came to light. A 24-year-old man from Etten-Leur was arrested on Thursday. He is suspected of sextortion and extorting more than a hundred underage girls, the Public Prosecution Service reported. This is the largest study ever into online abuse of minors in the Netherlands.
Wat is sextortion?
Sextortion is blackmail with nude images. People often threaten to distribute those images to get money or even more nude images. Sextortion is more common in boys than girls. Boys are more often asked for money and girls more often for additional images.
The justice system is overburdened
"The increase in online sexual violence is gigantic, that immediately becomes clear when you talk to social workers," says sex lawyer Richard Korver. According to him, there are many victims, but not many people come to the police yet. As a result, the court is not (yet) getting any busier, he explains.
Nevertheless, according to Korver, the legal system is already "severely overloaded". "If you are a victim of physical sexual violence and you have reported it, you sometimes have to wait a year and a half before the police pick up the file," he says. "It's code black."
But despite the increase in online sexual violence, we cannot prosecute sextortion as a specific crime under the current criminal justice system. "Sextortion is a form of expression and is classified in the category of child pornography or extortion," explains the police spokesperson.
When asked whether there should not be a separate category for the trial of sextortion, the spokesperson reacts somewhat displeased. "We would like to find out how often sextortion occurs, but then we have to open and analyze all reports. We just don't have a battery of people who can do that."
The threshold for punishing online sexual violence will be lowered
As of January 1, 2024, there will be a change in the adjudication of online sexual violence. An overarching article will be added to the law to make it easier to adjudicate.
"With the introduction of the new law, the reach is increased, so that online offenses also fall under the new law," explains Elizabeth Mol, legal adviser at Victim Support. This lowers the threshold for reporting sex crimes. Sex chatting, for example, is explicitly criminalised.
Even so, there will be no separate legal article for sextortion in the new law. An explanation of the law shows that the government sees no need for this.
The law does not explicitly state which forms of online sexual violence fall under rape, assault or fornication. "That does not mean that it is not punishable, but in many cases it is still unclear how certain offenses should be punished," says Mol.
The new law makes that clearer. Nevertheless, Korver remains critical of how much the law will change. "The guidelines for the adjudication of online sexual violence may become clearer, but even now this form of sexual abuse is often considered a criminal offense." Nevertheless, the national government states that people will report more cases from next year.
'The new law means that the police need more manpower'
The new law is more in line with current developments in society. "Online sexual violence is of our time, while the current law was written in a different time. It only focuses on physical contact," explains Mol.
Bicanic and Victim Support are happy with the arrival of the new law. Research shows that the impact of online sexual violence is just as great as the consequences of physical sexual violence. However, these online offenses are now not tried in the same way. That will change next year.
According to Mol, the police will need more manpower to process the possible increase in the number of reports. Korver sees bears on the road there. It is of course good if more victims report, he says, "but then the legal system will suffer serious consequences".
Beeld: Getty Images
---
Read more about:
Cross-border behaviorInland
---
---
---
---