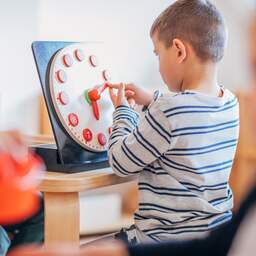 ---
Jan 21, 2023 at 9:45 PM
Telling the time is not the favorite part of primary school children. That is also quite imaginable, because naming the times and mastering an analog clock is like learning a new language. When should a child really be able to tell the time? And how can you help as a parent?
"In groups 3 and 4, children learn to master half hours and quarter hours, in groups 5 and 6 everything in between, and in group 8, a child should be able to read an analogue and digital clock well, and be able to do calculations with it. Some children do not go along with this learning line so easily, which may have to do with various things," says Marije Turel, children's coach and former primary school teacher.
Before children start telling time in primary school, it is also important that they develop a sense of time. As a parent you can help your child with this at an early age, for example by often naming how many minutes something still takes and talking about concepts such as tomorrow, today and yesterday.
According to Gerard Bel, education advisor at Wij-leren.nl, this is useful for your child. "Then a child in group 2 could already have an idea of ​​what ten minutes are. From about five years old they are then able to start learning to tell the time. Around the age of ten or eleven, a child can usually easily tell the time and do arithmetic with times."
Watching the clock in family life
According to Bel, telling the time is often experienced as difficult by children in primary school. Watching analog time in particular is a challenge, due to the complicated language that is involved.
"In addition, you will find a clear analog clock in few homes. They master a digital clock much faster. Parents also often tell the time when children ask what time it is, instead of challenging their child themselves to read the clock," Turel added.
If your child asks what time it is, it is worth letting your child figure it out for themselves. If it is 2.55 pm and a child in group 4 answers with "almost 3 hours", then that is completely fine and they have still practiced nicely, says Turel.
Have analog clocks in your home
Bel sees that children who grow up in an environment where a rich vocabulary is used have an easier time learning to tell the time.
It's also a good idea to get some analog clocks for your home, says Turel. Bel: "Make sure that they are clocks with numbers, and with a clear small and large hand. Learning to tell time analogously is more difficult than digitally, but it shows in a nice way how quickly time passes."
As a parent you have to be careful not to treat telling the time as something special. "Sitting down with your child to specifically learn to tell the time is not that effective. In everyday life you have much better opportunities to integrate telling the time with your child. Your child learns best when it comes into contact with times and clock times a lot says Bell.
Visual thinking, dyslexia and dyscalculia
Children who often think in pictures can have a particularly difficult time, says Turel. "They prefer to learn everything in a visual way, but they are also often very sensitive and busy in their heads, and have an eye for detail. It is not seen as a separate disorder, but visual thinking does have a lot of overlap with giftedness, ADHD and hypersensitivity."
"In my practice, I have often taught visual thinkers who have trouble telling time all the steps within an hour. For this group, it is necessary to see the big picture first. So first I explain the whole clock, including the difficult parts such as the times with 'five to half'. It is then important to divide everything into quarter 'pens'. With the help of such steps, they can tell the time quite quickly," says Turel.
Dyslexia and dyscalculia can also make it more difficult to master time reading. "With those two disorders, children have difficulty automating concepts," says Bel. "Dyslexics also often have trouble learning the analog clock."
Unfortunately, this content cannot be displayed. We do not have permission for the necessary cookies. Accept the cookies to view this content.
Change cookie settings
Beeld: GettyImages
---
Read more about:
Child & Family
---
---
---
---