---
Jan 19, 2023 at 10:44 PMUpdate: 14 minutes ago
The KNMI has issued code orange for Friday morning for the provinces of Utrecht, Gelderland, North Brabant and Limburg. Heavy winter showers are expected there from 8 a.m. and 10 a.m. Locally, about 5 centimeters of snow can fall per hour.
A few winter showers are already moving across the country tonight. There is therefore an early chance of slipperiness throughout the country, because wet roads freeze. Code yellow also applies in all other provinces.
With the weather code, the KNMI wants to warn of dangerous conditions. "Be careful, it is treacherously slippery," writes the weather institute on Twitter.
Rijkswaterstaat advises road users to keep an eye on information about weather and traffic. If you have the opportunity, work from home if possible. Those who do go on the road are advised to adapt their driving style to the circumstances.
The ANWB already saw the slipperiness on the road increase on Thursday evening. "One now and then flies off the road, also in the west of the country. People should not think that it is only smooth from 8 a.m.," says a spokesperson.
He is particularly concerned about the roads outside the highways, because there is less gritting there. Rijkswaterstaat has more than 500 gritters, more than 600 snow shovels, 1200 people and more than 250 million kilos of road salt ready to combat the snow and slipperiness.
It will also freeze on Saturday and Sunday
There will also be frost on Saturday morning. With broad clearances, it will freeze 1 to 4 degrees in most places. Clouds and sunny spells are expected this weekend. There is hardly any wind and therefore it is pleasant to be outside in the afternoon.
In the night to Sunday it will freeze extensively with minima between -1 and -5 degrees
Unfortunately, this content cannot be displayed. We do not have permission for the necessary cookies. Accept the cookies to view this content.
Change cookie settings
Jan 19, 2023 at 5:43 am
Weather forecast: Snowfall in the southeast, more winter showers on the way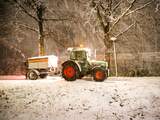 Image: ANP
---
Read more about:
InlandWeather forecast
---
---
---
---