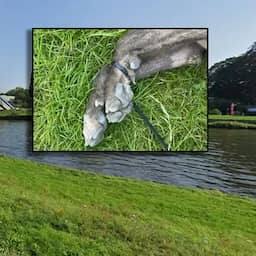 ---
Jan 20, 2023 at 7:22 PM Update: 2 minutes ago
A man from Zwolle was sentenced to six months in prison on Friday for killing a dog. The animal was fished out of the Zwolle-IJssel Canal on June 3, 2021. The front legs of the drowned four-legged friend were tied.
53-year-old Martin W. wanted to get rid of his dog, Alex van E. (37) told the police judge in Zwolle on Friday. Van E. was there when the dog was thrown into the water. The animal shelter didn't want the fighting dog named Level, it turned out.
Both Zwolle residents were walking the dog on May 31, 2021 when W. stopped at the Zwarte Water just outside Zwolle, tied the front legs with a tie wrap and threw the animal into the river. "I didn't dare to intervene. I was afraid of him," said Van E. Three days later, the dog was found in the nearby Zwolle-IJssel Canal. "The find led to a smear on social media," said the police judge.
According to the public prosecutor, the police had to do a lot of work to find the two. The real 'bang' was an overheard conversation in the police van, the prosecutor said. W. had previously denied and then came up with the story that a farmer was behind the death of the dog. Only in the van did he confess to being the perpetrator, the prosecutor said.
Judge calls action 'unspeakably cruel'
"It's finished with the beasts," said the prosecutor. He demanded six months in prison against W. for killing the dog and 2 months in prison against Van E. for not stopping W. with whom he was friends at the time. Couldn't Van E., who was the only one of the two before the judge, jump into the water after the dog? His counselor emphasized that this was a fighting dog that showed vicious behavior. In addition, a jump into the river can be dangerous.
The judge called W's actions "unspeakably cruel". She followed the officer's demand. Van E. received a suspended community service of 20 hours because his role was significantly smaller.
Image: Google Streetview/Police Zwolle
---
Read more about:
ZwolleInland
---
---
---
---