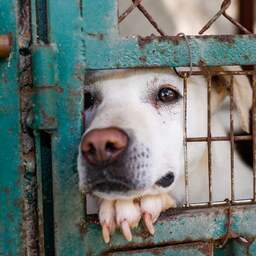 The number of reports of animal suffering among companion animals has increased explosively. This is partly due to reports from Ukrainians who have brought a stressed pet to the Netherlands, reports the WNL radio program Het Misdaadbureau.
The number of reports of neglected, abused or injured companion animals has quadrupled in a few years. In 2019, 850 reports were received and in 2022 that number rose to 3,500.
The figures come from the Dutch Food and Consumer Product Safety Authority (NVWA), which collects all reports. Most of these have been passed on by hotline 144 of the animal police.
The figures show that many animals had a hard time in the summer. Pets often did not have access to shade or water. The NVWA does say that there may be double reports. In some reports, it also turned out that there had been no violation.
The increase in the number of reports is partly a result of the war in Ukraine. Refugees from that country who brought their pets to the Netherlands were explicitly asked upon arrival to report if their animals had been stressed by the war, for example.
On Friday evening, the Crime Bureau will pay attention to the prevention of animal suffering in companion animals and the approach to animal abusers.
---
---