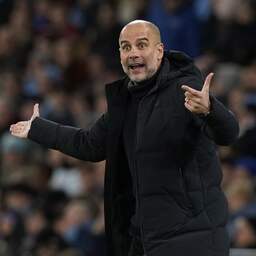 Manchester City manager Josep Guardiola criticized his players and fans of 'The Citizens' on Thursday evening after the spectacular 4-2 victory over Tottenham Hotspur. According to the Catalan, the supporters could have supported the team a bit more.
The champions of England had lost their last two games and fell 0-2 against Tottenham Hotspur to the horror of Manchester City fans.
"Our supporters were silent for 45 minutes. I want my fans back," Guardiola reported afterwards in conversation with the BBC. "I don't take into account the fans who go to away games, they are the best."
"But I want the fans back who support us every corner and every move. I would have wanted that especially tonight because Tottenham are one of the toughest opponents I've ever faced. Instead we were booed because we were losing goods."
Manchester City straightened its back and, thanks to goals from Julián Álvarez, Erling Haaland and Riyad Mahrez (two), still won the game. Still, Guardiola had a bad feeling about the match.
"In the second half we played well and had a lot of chances. But if nothing changes, we will lose points. We have to prepare better. We are nowhere near the team we were."
Manchester City are second in the Premier League with 42 points from nineteen games. Arsenal has no fewer than five points more and still has a game in hand. Guardiola's team will play at home against Wolverhampton Wanderers on Sunday.
---
---