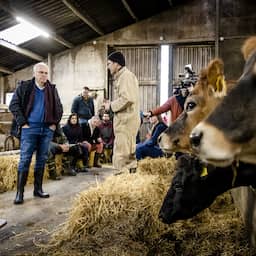 ---
Jan 20, 2023 at 3:12 PM Update: 10 minutes ago
The new, stricter rules for spreading manure will be introduced earlier than Minister Piet Adema (Agriculture) had planned. The minister announced on Friday afternoon that an "estimation error" had been made.
Adema was pressured by the European Commission. Last year it was agreed with Brussels that the Netherlands would phase out the exception that the country has for its farmers. This rule allows Dutch farmers to spread more manure than farmers in other European countries. In 2026, the same rules will apply to all farmers.
In exchange for that transitional period, the Netherlands had to meet a number of conditions. These conditions include making unplanted buffer strips compulsory and the use of so-called catch crops, a crop that is grown after a main crop, so that less nitrogen ends up in the groundwater.
Adema announced at the beginning of December that it would set a transition year. That went completely wrong with the European Commission. He threatened to immediately stop the deviating rules for Dutch farmers if Adema continued the transition year.
The minister wanted to introduce the rules, but wanted to take "agricultural practice" into account. According to him, the House of Representatives had also asked for this, he said on Friday after the Council of Ministers.
The minister acknowledges that the Netherlands may have been looking for "a goat path". It often did that in the nitrogen dossier, in order to mitigate the consequences of Brussels rules for farmers. His colleague Christianne van der Wal (Nature and Nitrogen) already noted during a debate in November that the European Commission is done with that. "They don't believe us anymore," she warned at the time.
Stricter manure rules already as of March 1
The stricter fertilizer rules will now be introduced as of 1 March. According to Adema, nothing will change for "a lot of farmers". For example, a number of farmers will have to construct buffer strips along ditches. They can be planted but not fertilized. "That means there will be a somewhat lower yield there." The minister cannot yet say how many farmers this will affect.
"I understand very well that it is really a very negative day for many farmers, that they hear this again. And that is a pity," said the minister. He has no intention of leaving. "I have just started and I am extremely motivated to work with the agricultural sector to achieve good future agriculture." He had come back from Berlin especially for this meeting.
Image: ANP
---
Read more about:
PoliticsAgricultural sector
---
---
---
---