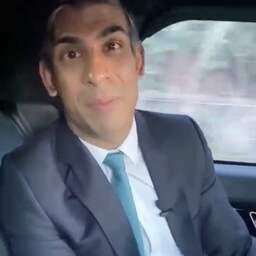 British Prime Minister Rishi Sunak has been fined 100 pounds (114 euros) for not wearing his seatbelt while filming a video in a moving car.
Sunak shot the video in Lancashire while traveling through the north of England. He sat in the back of the car while the video was being recorded for Instagram. The video showed that the Prime Minister was not wearing his seatbelt.
Lancashire Police then reported that a 42-year-old man from London had been fined. It turned out to be Sunak.
The Prime Minister has apologized for the incident. He called it an "error of judgement".
Passengers caught not wearing a seatbelt in a car can be fined £100 in England. This could be up to £500 if the case goes to court.
It is not the first time that Sunak has been fined as a cabinet member. Last April, as Minister of Finance, he was fined for violating the corona measures together with the then British Prime Minister Boris Johnson and his wife Carrie. They were fined for attending a birthday party for Johnson in June 2020.
---
---