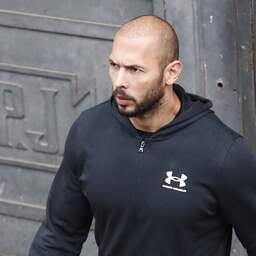 Andrew Tate will not be released for the time being. The detention of the influencer and his brother Tristan has been extended until February 27, the court in Romania ruled on Friday. The two are suspected of human trafficking and rape.
The former kickboxer was arrested at the end of December near the Romanian capital Bucharest. Ten days ago he had asked for his release. But the judge did not agree and decided that the influencer should be detained for at least thirty days.
In addition to Tate and his brother, two Romanians were also arrested. Prosecutors believe the men are behind a criminal organization "with the aim of recruiting, harboring and exploiting women by forcing them to produce pornographic material that can be viewed online for a fee".
The criminal investigation has been ongoing since the beginning of this year. Prosecutors have identified at least six women who were allegedly sexually exploited by the suspects.
Tate denies all allegations. In the past, the 36-year-old influencer was banned from social media for hate speech against women.
---
---