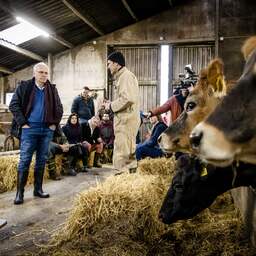 ---
Jan 20, 2023 at 3:12 PMUpdate: 8 minutes ago
The cabinet is waiving more flexible rules regarding the spreading of manure for farmers. Initially, Minister Piet Adema (Agriculture) wanted to give farmers an extra year for a number of conditions, but that is against the agreements made with the European Commission on this. The rules will apply from April.
According to Adema, an "error of judgment" was made, he said Friday afternoon.
Adema has made agreements with the European Commission about phasing out the Dutch exceptional position for spreading manure.
Adema says he wants to take "agricultural practice" into account, just as a majority of the House of Representatives had asked him in October.
The minister acknowledges that the Netherlands may have been looking for "a goat path". It often did this in the nitrogen dossier, in order to mitigate the consequences of Brussels rules for farmers.
A spokesperson for the European Commission emphasized on Friday that agreements have been made between Brussels and Adema about phasing out the exceptional position and that there is room for a transitional period.
There are only conditions that are "legally applicable" and simply have to be observed, according to the spokesperson.
Brussels surprised by Adema postponement
For years, Dutch farmers have been allowed to spread more manure than farmers in other European countries (derogation), but that is coming to an end. The agreement was that the water quality would improve, but it has actually deteriorated.
The Netherlands was given a transitional period until 2026 so that farmers are not allowed to spread less manure from one year to the next.
There are only conditions attached to this, including mandatory unplanted buffer strips and the use of so-called catch crops so that less nitrogen ends up in the groundwater.
Those conditions had to be met this year, but to the surprise of the European Commission, Adema announced in December that farmers will be given a year's extension.
That is not as agreed and so Brussels warned The Hague that it must still introduce the measures this year, otherwise the transition period for the exceptional position for farmers will be over completely.
Stricter manure rules already as of March 1
The stricter fertilizer rules will now be introduced as of 1 March. According to Adema, nothing will change for "a lot of farmers".
For example, a number of farmers will have to construct buffer strips along ditches. They can be planted, but not fertilized. "That means there will be a somewhat lower yield there."
The minister cannot yet say how many farmers will be affected by this.
Image: ANP
---
Read more about:
PoliticsAgricultural sector
---
---
---
---