Cristiano Ronaldo will play his first game on Thursday since his move to Saudi Arabia, against the Paris Saint-Germain of his eternal rival Lionel Messi. The top poster fits perfectly with Ronaldo's role as the new banner of the rich kingdom.
Eelco Schattorie has been living in the Middle East for twenty years, where he has worked as a trainer in the United Arab Emirates, Saudi Arabia, Oman and Bahrain. His European friends rarely showed interest in attending a game in one of those countries. Until this week.
"I suddenly get all kinds of questions about tickets for the game between Ronaldo and Messi," says 51-year-old Schattorie by telephone from Dammam, Saudi Arabia, where he currently works as head of youth academy for Al Ettifaq. "I'm surprised my friends would want to travel to Saudi Arabia, but that's the power of football. This match is big news not only here, but all over the world."
Ronaldo already signed with Al Nassr at the end of December, but he still had a two-match suspension because he knocked a phone out of a supporter's hand as a Manchester United player in April. It is therefore partly a coincidence that the 37-year-old Portuguese only makes his (unofficial) Saudi debut on Thursday, in a friendly match between PSG and a combined team of players from Al Nassr and great rival Al Hilal.
That coincidence does provide an ideal scenario for the Saudis. The 37th duel between superstars Ronaldo and Messi – and perhaps the last – guarantees worldwide attention. According to various media, 1.5 to 2 million people have expressed interest in a ticket (the King Fahd Stadium in the capital Riyadh has room for about 68,000 fans).
To increase the interest, the entertainment branch of the Saudi government organized an auction for a VIP package. Mushref Al Ghamdi, director at a real estate company, offered almost 2.5 million euros and is therefore allowed to attend the award ceremony, visit the changing rooms and meet Ronaldo and Messi. "The arrival of Ronaldo is of course mainly a PR stunt," says Schattorie. "He is the magnet that should draw attention to Saudi football."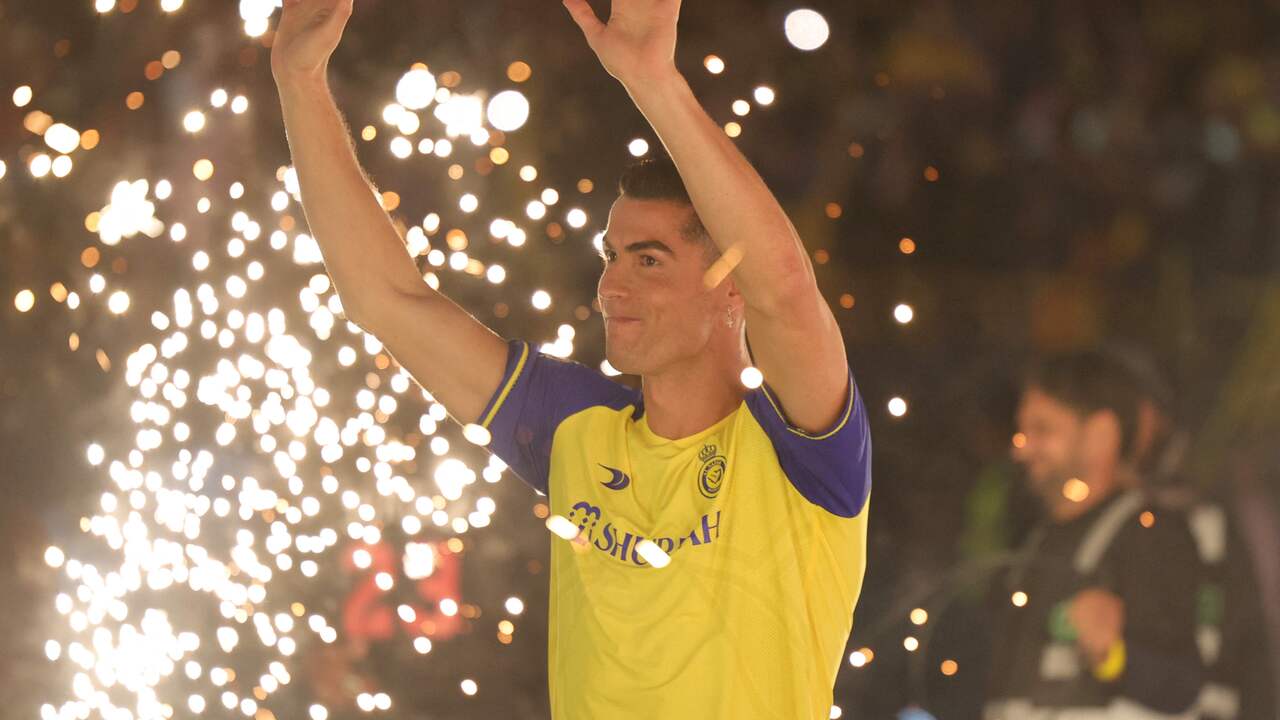 0:45 Play button
Ronaldo makes painful presentation mistake
On January 3, Ronaldo sits in a three-piece suit in front of a large sign with the slogan: 'Saudi, Welcome to Arabia' dozens of times. "This is not the end of my career now that I'm here in South Africa," said the five-time Ballon d'Or winner in a packed house at Mrsool Park, his new home stadium.
Ronaldo doesn't seem to realize his mistake. The presentation of Al Nassr's top acquisition will certainly not be any less festive. According to Sky Sports, no European club wanted the striker after his messy divorce with Manchester United, but that's not the story Ronaldo tells after a dazzling light show.
"I have received many offers, also from Europe," he says. "But my work in Europe is over. I won everything there. I am happy that Al Nassr gives me the opportunity to discover something new. I want to help develop football, but also other parts of this beautiful country. "
Less than two months earlier – in the infamous interview with Piers Morgan that marked the end of his United time – Ronaldo struck a completely different tone. "I have the feeling that you don't want to go to Saudi Arabia for the money. You want to continue to play football at the top," Morgan said at the time. "Exactly," Ronaldo replied.
Al Nassr managed to convince the star anyway. Ronaldo is reportedly going to earn around 200 million euros a year in Riyadh, making him by far the highest-paid footballer ever. "The people I speak to here are realistic enough to see that this is a strange move," says Schattorie. "I have often heard the same question: why would Ronaldo come to Saudi Arabia? They also know that an absolute world top player does not come to their league because he really wants to play football here."
Ronaldo and sports washing
According to human rights groups, the signing of Cristiano Ronaldo is another example of "sportwashing" by Saudi Arabia. This is a term used when a country tries to divert attention from abuses such as human rights violations by organizing major sporting events.
"Instead of uncritically praising Saudi Arabia, Ronaldo should use his massive platform to draw attention to the country's human rights issues," Amnesty International wrote in a statement.
"Ronaldo is going to have a culture shock"
Schattorie was asked this week whether a number of boys from Al Ettifaq's under-20 team could train with the first team, because three defenders were injured. "I thought: they won't be afraid to play against Ronaldo, will they?" says the Dutch coach with a wink.
After the exhibition game with PSG, Ronaldo will make his official debut for Al Nassr this Sunday in a home game against Al Ettifaq. According to Schattorie, the superstar cannot calmly reduce in the Saudi Premier League, although the level is obviously not comparable to the European top competitions.
"In Europe they think it's a Mickey Mouse competition here. It's not, it's not playground football," says Schattorie, who has worked in Saudi Arabia as head coach of Al Ettifaq and Al Khaleej. "It is always difficult to compare, but I think that a top club like Al Nassr could participate in the middle bracket of the Eredivisie."
In addition to Ronaldo, the current leader also has experienced professionals such as keeper David Ospina (ex-Arsenal and -Napoli) and playmaker Talisca (ex-Benfica) under contract. "But I expect it will be a culture shock for Ronaldo," says Schattorie. "In terms of professionalism, it is a bit looser here than he is used to. And he will also have to play football in small, rural places like Hafar Al Batin. You will not find five-star hotels there, so I am curious how he will experience that."
Ronaldo and the 2030 FIFA World Cup
Many people see the transfer of Cristiano Ronaldo as an important part of Saudi Arabia's plan to bring the 2030 FIFA World Cup to the country. The kingdom wants to be a candidate for the tournament together with Greece and Egypt.
Al Nassr reported in a statement that "There is nothing in Ronaldo's contract related to a World Cup bid".
---
---